2.5/4

3.5/4

3/4

2/4

3.5/4

2/4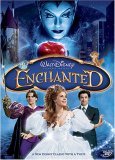 Enchanted
The Title Fits - Very Enchanting Film
3.5/4 stars
God Bless Amy Adams. The Oscar-nominated (for Supporting Actress, for Junebug) actress never, ever strikes a false note in this Disney fairy tale, about a maiden named Giselle who is thrust into the real world - literally - by an evil queen, bent on keeping Giselle from marrying her son.

The film starts off in the animated world of Andalasia, where the poor but beautiful Giselle - along with her animal friends, a la Cinderella, sings about the prince she hopes to one day marry. Nearby, Prince Edward (played by James Marsden) is out hunting with his companion Nathaniel (Timothy Spall, in a hilarious performance), when circumstances occur that allow Edward and Giselle to meet for the first time. In true fairy tale fashion, the two instantly fall in love, and plan to wed - the very next day, in fact.

But no fairy tale is complete without an evil queen, and Prince Edward's mother, Queen Narissa (Susan Sarandon, brilliantly wicked here), most definitely fits into that category. Determined to hang onto both her title and her riches, Queen Narissa - who for years has done everything possible to ensure Edward would NOT meet a girl to marry - decides to rid herself and her kingdom of Giselle in a big way. Using her magic powers, she disguises here as an old hag and lures Giselle to a magic fountain - pushing the girl over the edge and into a portal that sends the poor, innocent Giselle ...

To Times Square, in modern-day New York City, in the real world.

To say Giselle is fish out of water here is a real understatement. Within a few hours she's nearly run over in traffic, has her tiara stolen by a homeless man ... and meets divorce lawyer Robert Philip (Patrick Dempsey), a cynical single father whose lofty aspirations of love and fairy tale endings were long ago killed off by harsh reality.

It takes some doing, but eventually the perky and happy Giselle begins to convince Robert that maybe she is unique to his world, after all (the way she can control animals to help her clean house, or make New Yorkers - of all people - spontaneously break into song in Central Park probably has something to do with this). Robert's daughter Morgan (Rachel Covey, in a sweet, though not TOO sweet, performance) believes in Giselle right away, as she seeks both a mother figure and a little magic in her own small world. But the longer Giselle's around, good intentions or not, the more she sort of messes up Robert's life - not the least of which is the relationship he has with his girlfriend Nancy (Idina Menzel), whom he hopes to propose marriage to.

As if this weren't enough - back in Andalasia, Prince Edward has gotten wind of what's happened to his fairy maiden Giselle - and leaps into the same magic fountain. He pops up via the same manhole in Times Square, brandishing his sword, and immediately sets off on his seemingly-impossible task of finding his princess-to-be. Word of his actions reaches Queen Narissa, and she immediately dispatched Nathaniel off in the same way, to follow Edward and steer him in the wrong direction so that he never finds Giselle again. Fortunately, Giselle's chipmunk friend Pip also sneaks along for the ride, to help Edward in his cause.

This is a brilliant, lovable film, one that plays up on fairy tales from "Cinderella" to "Snow White" and more. It's good family entertainment - and even with the ending you can see coming a mile away, it all works ... and there are still some surprises along the way.

But enough can't be said of Amy Adams in this film. In the hands of a less capable actress, Giselle could have come off annoying, sugary - a total caricature. But Adams makes her 100% REAL, and not only that - she makes her completely endearing. It's an Oscar-worthy performance that really goes a long way in making the film work - although Marsden and Spall and Sarandon are brilliant, as well. Dempsey is very good, just a bit stiff - but then, so was his character - and Idina Menzel does a lot with what is essentially a thankless role.

I loved Enchanted. It's great family entertainment for all ages, and proof that Disney can still keep on top of its game. The ending kicks butt (the whole film does, especially once Queen Narissa finds it necessary to come to NYC herself), and again - even as you can predict how things will end, you'll still definitely understand how it got its name; even the most jaded viewer should walk away enchanted.