2.5/4

3.5/4

3/4

2/4

3.5/4

2/4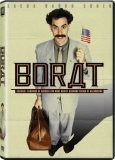 Borat: Cultural Learnings of America for Make Benefit Glorious Nation of Kazakhstan
Very Funny, Cohen is Brilliant!
3/4 stars
Finally catching this film on DVD, I did so with trepidation - afraid the hype would overrun my being able to actually enjoy the film (assuming I enjoyed it at all; I had heard it could be pretty offensive in spots).

Sacha Baron Cohen, who co-wrote the film, stars as Borat Sagdiyev, a television journalist in the tiny country of Kazakhstan - who's become somewhat of a local celebrity in the tiny village in which he lives. Borat is tapped to head a film crew (consisting of him and his friend Azamat, played by Ken Davitian, along with - assumedly - a cameraman) that will go to "the U. S. and A." to film a documentary. Once in New York City, however, it becomes obvious that Borat has some real assimilating to do with the American people - in scenes that get increasingly more difficult to watch, as the viewer gets a most shocking idea of what Americans are really like when their guard is down. The many, MANY lawsuits filed against Cohen and the makers of this film attest to the simple, plain truth that most of those appearing in the film had no idea this was a put-up job; they really thought Borat was a real journalist, shooting a real documentary for a country those on-camera thought would ONLY see this film. And therefore, they spoke honestly ... often, often TOO honestly. The film is often shocking, sometimes appalling - and ultimately, very, very laugh-out-loud funny.

The documentary plans are scrapped when Borat, lying in his hotel room, happens to catch an episode of "Baywatch" and falls head over heels in love with Pamela Anderson. The next day, he uses a good chunk of the documentary's funds to buy a beat up ice cream trunk, and informs Azamat that they are going to drive across America and get a real feel for the country for their documentary. On their trek, Borat and Azamat deal with the Secret Service, down-south gangbangers, rodeo hicks, a gun shop owner who casually points out (when asked) which gun is best for shooting Jews ... and that's just the tip of one very big iceberg of all that Borat discovers in his travels.

Sacha Baron Cohen is a genius. His Borat is repulsive yet endearing, cringe-worthy yet immensely watchable. The film is hilarious, even if some of that laughter will - at the same time - have you covering your mouth in shock at what you're seeing or hearing. Cohen deserves all the nominations and awards he's been honored with for the film, - and some would argue he deserves the tons of lawsuits he's been hit with for the film, too. But what he caught was nothing more than people expressing how they really feel, uncensored and uninhibited. It's not pretty, but it's pretty enlightening. And, often, shockingly funny. The films works because it absolutely comes off as real - none of the scenes (with the exception of when Borat finally does meet up with Pamela Anderson - who, reportedly, was in on the gag) seems fake, and you really buy into the fact that these people spoke with Borat based on their assumption he was, indeed, a journalist from Kazakhstan. It's a brillant surprise of a film that's not for everyone - but if you do catch it, you will laugh ... even as you're (maybe) a bit ashamed at yourself for doing so.