2.5/4

3.5/4

3/4

2/4

3.5/4

2/4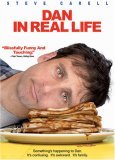 Dan in Real Life
Expected So Much More ...
2/4 stars
I've been a Steve Carell for some time now, but always felt his talents are an actor were pretty limited. With Dan in Real Life, I've changed my mind - it's Steve Carell's best work to date, in a film that has all the components for a good romantic comedy ... and yet somehow, ultimately, comes up a bit short.
Dan Burns (Carell) is a widower of four years, with three daughters, who writes a popular local newspaper column that emphasizes family values and raising kids in the proper manner. Dan in the newspaper has it all together, but Dan in real life is dealing with the all-too-real frustrations of pre-teen, tween, and teenage daughters. He's a good parent, a strict parent, a play-by-the-rules kind of guy; one who'se not allowed himself to open up much in the four years since his beloved wife died, putting all his energy into single-parenting and his work, instead.

A family get-together in the mountains changes all this when Dan takes a solo trip to a mom-and-pop bookstore in town ... and, for the first time in four years, meets a woman who brings back all those old feelings again. Marie (Juliete Binoche) is pretty, charming, and intelligent - and Dan is hooked. After their talk in the bookstore, the two retire to a local cafe, laughing and sharing conversation - when Marie suddenly sees the time and says she has to leave. Turns out she has someone in her life, and Dan bids her a sad goodbye - after talking her into taking his cell phone number, saying he'd like to still see her as a friend (even though you can plainly see he's already smitten with her).

Elated at just having met Marie, Dan huries back to the family cabin, anxious to tell his brothers that's he's finally met someone nice - only to be interrupted by the arrival of his broher Mitch's girlfriend to the cabin (Mitch is played by Dane Cook, in a charming but uneven performance). When this girlfriend turns out to be Marie, Dan's both shocked and saddened - and the rest of the reunion (and film) seems doomed to Dan and Marie awkwardly trying to deal with their growing romantic attraction to each other, without giving away how they really feel and hurting Mitch or Dan's family.

Dan in Real Life is well cast, well-written, charming and funny, and has a fine supporting cast (John Mahoney and Dianne Wiest are real standouts as Poppy and Nana Burns). Carell gives his best performance so far, and Binoche is great as Marie. The kids in the cast - particularly Brittany Robertson as Dan's daughter Cara, along with Felipe Dieppa, who is awesome as her boyfriend Marty - keep up with the adult ators in the film.

But the entire movie really hinges on the relationship (or lack or relationship) of the characters of Dan and Marie - and, at least to me, there is just no chemistry whatsoever between Steve Carell and Juliette Binoche in the film. After their initial meeting, when Dan learns that Marie is Mitch's girl and he therefore can not go after her himself, I sat there wondering why Dan was so upset over the whole thing; after all, he'd only just met Marie, and had barely spent time with her! But as the film went on, I realized that that first meeting was supposed to be a real thunderclap in Dan's love life - his first experience at feeling love again. But I just wasn't feeling it.

In the DVD extras, it's stated that the entire cast spent a week or more up at the cabin where the film was shot ... except for Steve Carell, who couldn't arrive until literally four hours before shooting commenced. I don't know if that had any influence on his on-screen chemistry with Binoche or not, and Carell feels connected to the other actors in the cast quite well, but there's just nothing there (for me) between the two characters in the film. I found myself often wondering why they loved each other so much - it just didn't show, for me, on screen.

Which was sad, for me, because I really wanted to like this one more. It's well made, with an excellent cast, and even the ending is satisfying ... but the lack of chemisty was a real sticking point for me in the film. Kind of like that itch in the middle of your back that you can't quite reach to scratch - only an inconvenience, but an irritating one. I enjoyed the film, overall - but just not the one thing about it I was supposed to enjoy the most.