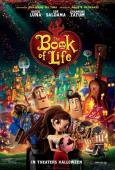 Book of Life, The (2014)
Mexican culture at its most unique
2.5/4 stars
This is one of the most ambitious animated movies I've seen in years. Maybe even ever. "The Book of Life" features some incredibly unique animation, making it irresistible to watch. It's very entertaining. I just wish the same could be said for its narrative. It's not that the idea of it isn't good. In fact, it's a very appealing concept. It's the execution that turns out to be a bummer. We have a great cast of funny characters (and I was laughing pretty hard at some points) at our disposal, but the creators don't create enough emotional depth for us. It's also a bummer that the emotional core of the movie falls flat. Really flat. But it's hard for me to tell you not to see it. A lot of it is really entertaining and funny, and should please ultimately please families on a movie night together.