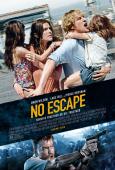 No Escape (2015)
No Escape (2015) - Regal Beagle Review
2.5/4 stars
To be honest, I had absolutely no desire to see this film. Owen Wilson and action films do NOT seem like a winning combination. Surprisingly, he was not the problem(s) I had with the movie.

Let me preface what I'm about to say with: I enjoyed this movie. It made me sit on the edge of my seat, it made me root for success, but above all, unfortunately, it made me confused because this film tried too hard to be a movie that it wasn't. If you're going to make an action film, you have two ways to go:

Road #1: Nothing but action. Little to no emotional connection. You want the hero to succeed and that's about it. Die Hard, First Blood, Mad Max: Fury Road. These films come to mind.

Road #2: Amazing action sequences, but you genuinely care about the hero and his/her relationships. Taken, The Dark Knight, Furious 7, Gladiator. You not only care about beating the bad guy, but you care about the aftermath and the character's emotions and well being.

This film could not decide which road it wanted to take. In the first scene, we witness an assassination and a suicide. The film's titles appear in dark red on a black screen and we are then given vague exposition about our central family, so that ten minutes into the movie we can get into the action. Shot in a perfectly suspenseful way, you are positive that this particular adventure has taken the first road. However, we are then subject to the family trying to get emotional and we are expected to care. The filmmakers have given us no overwhelmingly positive traits for these characters (Mom and Dad love their cute little girls very much, but that's about it.) So when these impassioned scenes begin to happen, we are not emotionally invested in their discoveries of each other's feelings. The few scenes we had of them before the action did not give us enough to relate or feel much.

Then, we get back on Road #1, quickly back to the action. The mood has shifted and we are now unsure of how these characters will react because now they have "feelings." Inconveniently, the film used up all the suspense towards the beginning, leading to the film's emotional aspects to be stuck in limbo as the action falls short. I will not spoil the ending, but another attempt at Road #2 leaves the audience feeling empty of connection and less than satisfied with action at the film's end.

Do not get me wrong, I enjoyed the film. If you're looking for another stress-filled action movie (Argo, Captain Phillips), you've come to the right place. If you're looking for an emotional connection with your protagonists when the credits roll, this is not the film for you.