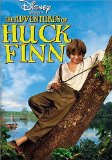 The Adventures of Huck Finn

3/4 stars
This movie shows how a friendship between Huck and a slave named Jim develops.
This movie is funny but serious at the same time. My favorite character is Huck. He is very smart, and cute. He lives with Mrs. Watson and her sister, "The Widow Douglas". They both take care of him, but he doesn't like it. He experiences a lot of things when he runs away forn "The Widow Douglas." I really recomend this movie and also the book, because this is not a boring history that you may be reading or have read.