N/A

3.5/4

3.5/4

2/4

2/4

3.5/4

2/4

2/4

2/4

N/A

3.5/4

1.5/4

3.5/4

1/4

3.5/4

3/4

2.5/4

2.5/4

3.5/4

2/4

3.5/4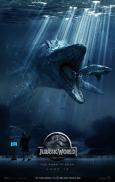 Jurassic World

3.5/4 stars
for more reviews visit www.KalpeshPrajapati.com

Jurassic World – Rating 9 out of 10

Jurassic world is a movie that may not keep you at the edge of the seat throughout but whenever it does, it succeeds in keeping you there for a long time.

This movie is a better visual treat than the previous installments.

From T-Rex to flying dinosaurs you see them all in this movie.

The stunts are amazing, the chase- well shot, the location is visually appealing.

The past is well connected in few scenes which occasionally reminds you of the original movie.