2/4

2/4

1/4

0.5/4

4/4

1/4

1/4

1/4

1/4

3/4

1/4

1/4

3/4

1/4

1/4

3/4

1/4

2/4

2/4

2/4

1/4

2/4

4/4

4/4

1/4

Next 25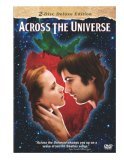 Across the Universe
60%
2/4 stars
Action: 2/3 + Comedy: 0/2 + Good vs Evil: 0.5/1 + Love/Sex: 1/1 + Special Effects: 1/1 + Plot: 1/1 + Music: 0.5/1 = 6/10 or 60%.

The films visuals are the thrill within this piece. Apartment walls become the sky, football players cartwheel through coming out declarations, and strawberries are the military's splattering bombs. Even a simple bowling alley isn't safe within it's own conformity, instead falling into unified leaps over the ball dispensers with people rolling themselves down the lanes.

The songs themselves, all Beatles remakes, seem wedged and forced into the story though. A newspaper story, for example, conjures "A Day in the Life" briefly because it contains the line "I read the news today" and that's it. Thus, the visual balance outweighs and questions the use of the music as well as any semblance of relevant story.