3/4

1.5/4

2/4

1/4

2/4

1.5/4

3/4

3/4

3/4

2.5/4

2/4

2.5/4

2/4

1.5/4

1/4

2.5/4

3/4

3/4

3.5/4

2/4

1.5/4

3/4

3/4

2/4

2/4

Next 25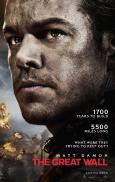 The Great Wall
The Great Wall has a few holes.
2.5/4 stars
The most expensive movie filmed entirely in China and it's starring Matt Damon. That might rub some people the wrong way but in the context of the film, it actually makes sense. Plus I'm sure they wanted to cash in on American audiences overseas. It's a reasonable business move.
"The Great Wall" itself is an odd creature. Part historical period piece (in a foreign language half the time too!) and part Hollywood blockbuster spectacle. The setting? Medieval China. The story? European mercenaries led by Matt Damon in pursuit of gunpowder are captured at the Great Wall (duh). The Chinese soldiers there tell them the real reason the wall was built: to fend off an army of monsters. From outer space.
Yes I'm serious that's the plot.
It's actually a well made and often quite silly B-movie. But it's the type of silly B-movie that sixty years ago would have featured stopmotion effects work by Ray Harryhausen and starred Kerwin Matthews as the hero. Like in Zhang Yimou's other movies, the production design is gorgeous. The sets and costumes are beautiful. The monsters' CGI isn't bad but you appreciate the practical effects more when they're used.
The one problem with The Great Wall is a lack of solid characters. No one is terrible per se but they're not memorable. If the human characters were as cartoony as the CGI monsters they face, The Great Wall might have been as good as Pacific Rim.
As it is, it's an odd film that's mostly entertaining and sometimes interesting.