3/4

3.5/4

1.5/4

3/4

2.5/4

2/4

3/4

3/4

3/4

3/4

3/4

1.5/4

2/4

2/4

1.5/4

2.5/4

3.5/4

1.5/4

1/4

2/4

3/4

1/4

2.5/4

0.5/4

3/4

Next 25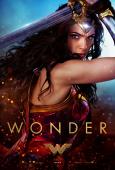 Wonder Woman (2017)
Whoever thought of that theme music is a genius!
3.5/4 stars
Gal Gadot plays Diana, Princess of Themyscira, and daughter of Hippolyta. Best known as Wonder Woman.

And by god she kills it in this. Wonder Woman is not merely the best installment of the DCEU so far but it's probably the best DC movie since the Dark Knight trilogy. Wonder Woman is also one of the most entertaining superhero debuts since the first Guardians of the Galaxy. On top of that, there is finally an excellent movie to set the benchmark for future superhero movies about a female hero.

Director Patty Jenkins transports audiences to Paradise Island where Amazon warrior women are tasked to defend mankind from the vengeful Ares, the Greek god of war. Their ruler's daugher Diana is kindhearted, brave, compassionate, and courageous. She rescues a dashing spy named Steve Trevor (Chris Pine) who informs her people about a greater conflict we know to be World War One. She is appalled by the destruction and onslaught so without question she sets out on a quest to end it.

Gal Gadot is the beautiful beating heart of this movie and perfectly cast as Wonder Woman. She's charismatic and authoritative but not so much that she loses her feminine charm and sense of humor. Yes a DC character being funny! Imagine that! Chris Pine is the love interest/sidekick who could honestly serve as the lead of his own adventure movie. Pine is factory built for these types of tough but clever action roles. His chemistry with Gadot is the best romance in a superhero movie since probably the original Spider-Man movies. The supporting cast is a strong one. Connie Nielsen is dignified as the Queen, Robin Wright is her steely lieutenant, Danny Huston is a slimy Nazi-by-another-name, Elena Anaya is her creepy henchwoman, and Lucy Davis plays the comic relief.

The movie uses the wartime setting to its advantage. No Man's Land becomes Diana Prince's debut as Wonder Woman. German infantry fight Amazons on horseback. Later the finale boils down to a god versus another god. And yes they use the Lasso of Truth. It's so cool!

The timing of this movie couldn't be better. It works splendidly as a summer blockbuster at the very least. But it gives hope to female viewers young and old that women can be heroes too. It gives male viewers a chance to see a true ideal feminist hero in action. It also redresses for the mistakes made in the previous installments of the DCEU and honestly makes me more excited for Justice League.