3.5/4

1.5/4

3/4

2.5/4

2/4

3/4

3/4

3/4

3/4

3/4

1.5/4

2/4

2/4

1.5/4

2.5/4

3.5/4

1.5/4

1/4

2/4

3/4

1/4

2.5/4

0.5/4

3/4

2/4

Next 25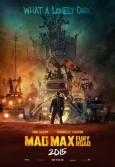 Mad Max: Fury Road
What else to add about Mad Max: Fury Road?
3.5/4 stars
That it is the weirdest and strangest blockbuster in decades? That it has the most exhilarating action and stunt-work seen in an action film in decades? That it dares to be unusual, frightening, heart pumping, and exciting all at the same time? I suppose I already have.
George Miller who directed the original films with Mel Gibson is back with a fucking vengeance in this adrenaline rush of a motion picture. It is not a film in the traditional sense. Dialogue is sparse and often terse when spoken. Most of its storytelling is told through pure action and thrills which it delivers on a level not seen-as I repeat-in decades.
It is said that 80 to 90% of the action in Mad Max: Fury Road was done via practical effects and minimal CGI. Dear God it looks absolutely phenomenal! Bullets whiz past heads, melee weapons clash, cars crash, motorcycles fly, and daredevil extras hoist themselves in the air like acrobats from vehicle to vehicle.
The story at the heart of the now legendary production is a admittedly simple one. Perhaps that is its one fault. However, the ideas that it brings up in its quieter moments are almost touching in their simplicity like trust, redemption, solidarity, bravery, and of all things to find in a Mad Max movie, the value of common decency. There's something endearingly old-fashioned about that, as though it's a western. In fact, without spoiling anything I hope, it ends like any typical western with a stoic antihero as its protagonist.
Blockbusters are like any other film genre and they must have good actors that are able to bring their characters to life. Otherwise they live and die by the end credits through special effects and whatever spectacle they have to offer. That is a cold hard fact.
Therefore, Miller gives audiences some of the most colorful, strangest, creepiest, and in some instances the toughest characters yet seen in a blockbuster film. Charlize Theron utterly disappears in the role of Furiosa a warrior woman who disobeys her tyrannical commander and steals his prized concubines. She's battle-hardened, a shaved head, and a robotic left arm. Theron kicks some major ass in this movie. If the role of Wonder Woman was still open, she'd be the sole contender in my book. Tom Hardy has less dialogue and often relies on his body language and gruff persona. This makes him a brutal and sardonic character but still somehow a principled one despite his dubious mental state. Contrary to some critics, Tom Hardy is indeed the main character of the movie though a more accurate description of his role is that of an unsung hero-just as in the tradition of the classic westerns of old.
What are an odd band of heroes and a desolate setting without villains of equal measure? Miller provides that tenfold with the fiendish warlord Immortan Joe, his giant son Rictus, the trigger happy Bullet Farmer, and his diabolical army of suicidal beserkers known as War boys. Their society's vile ideology, their individually gruesome appearance, and battle ready weaponry accelerate the tension of the already high-octane action sequences.
Mad Max: Fury Road is mostly what everyone is calling it: a breathtaking cinematic experience that takes its audiences on a journey through an increasingly surreal and savage yet sometimes beautifully realized world that its demented hero Mad Max calls home. It's an exercise in heightening the audiences' senses to what unfolds onscreen and bewildering them at every turn of the chase.
Speaking of which, it is so that Fury Road is at its heart a chase movie. Its straightforward plot might strike some as too quaint in contrast to the bizarre visuals and breakneck action but I say if you can make a movie work through visuals and action as effectively as plot and dialogue, then why repeat yourself when you've already made your point?
Even if you don't think you'll like it, Mad Max: Fury Road is unlike any other blockbuster that came out over the past twenty years and is worth even a single viewing. That is an achievement unto itself.