3.5/4

3/4

1.5/4

2/4

1/4

2/4

1.5/4

3/4

3/4

3/4

2.5/4

2/4

2.5/4

2/4

1.5/4

1/4

2.5/4

3/4

3/4

3.5/4

2/4

1.5/4

3/4

3/4

2/4

Next 25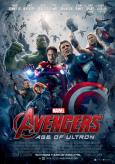 The Avengers: Age of Ultron
'None of this makes sense' - Hawkeye
3.5/4 stars
For the first time, it seems that a comic-book movie has truly captured all the visual splendor, the action overkill, the melodramatic expostion, and the ceaseless posturing that comes with the medium. And it looks fan-freaking-tastic.
Luckily enough, Joss Whedon recognized that he can no longer rely on the novelty of multiple superheros in one movie to sell said movie since he himself did it already. Therefore, he actually tells a story and what a robust example of muscular storytelling 'Age of Ultron' happens to be! The size and scale of the production and the huge cast of returning stars as well as new ones never once feels too overwhelming or unwieldy thanks to a screenplay more than capable enough of containing its high energy and still deliver spectacular thrills!
Marvel's biggest movie to date wastes no time delving into the heroic hijinks of the Avengers as they continue crime-fighting side-by-side until they are confronted by the rogue artificial intelligence Ultron (superbly voiced by James Spader). Created by Iron Man himself to serve as a peacekeeper against galactic threats, Ultron nihilistically dismisses this task as pointless and reinvents himself as the harbinger of humanity's extinction. He's joined by the weird twin mutants Quicksilver and Scarlet Witch (Aaron Taylor-Johnson and Elizabeth Olsen).
The genius of 'Age of Ultron' is how it examines what it means to be an Avenger let alone a superhero in the Marvel Cinematic Universe. Ultron sees them as shorted sighted if not a detriment to mankind's improvement as a species and even Captain America observes that the ending battle ought not just to be about defeating Ultron but whether or not he has a point. Bruce Banner/Hulk is conflicted as to whether he is a vital asset or a potential threat to his allies and innocent bystanders alike. Tony Stark wonders frequently if he with all his knowledge and resources has truly done all that he can as Iron Man. Hawkeye has a terrific character arc since he's seemingly the most useless Avenger, quipping that all he has is 'a bow and arrow.' Yet he is proven to be the heart and soul of the team by the film's end.
Indeed, the movie would prove tedious if for two and a half hours, the characters were not as interesting as they were in the first movie or even their own solo installments. Thankfully we learn more about each character and the new characters are given ample attention to. There's nothing more satisfying than a popcorn flick that can balance out as many character arcs and subplots as 'Age of Ultron' can and still leave the viewer feeling reinvigorated like a child again.
The visuals and the spectacle and the action is among the best that Marvel has done. The climax is among the most momentous ever staged in a comic-book movie. Ultron's appearance and movements are impressive;might even be Oscar-worthy. If you wonder how they can match the first Avengers or GOTG in this sense, you'll be more than satisfied. As for everything else, 'Age of Ultron' gives audiences as much as they enjoyed about the first one and for some viewers, perhaps even more than they expected.