3.5/4

1.5/4

3/4

2.5/4

2/4

3/4

3/4

3/4

3/4

3/4

1.5/4

2/4

2/4

1.5/4

2.5/4

3.5/4

1.5/4

1/4

2/4

3/4

1/4

2.5/4

0.5/4

3/4

2/4

Next 25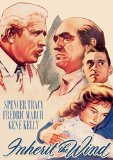 Inherit the Wind (1960)
Science? Religion? It's all in your head anyway...
3/4 stars
Stanley Kramer's courtroom drama fixates on the dichotomy of science and religion, specifically evolution. Based on a play that fictionalizes the historic Scopes trial of 1925, screen legends Spencer Tracy and Frederic March spar with one another on the issue as to whether a schoolteacher on trial ought to be penalized for teaching evolution to his students.
The script benefits from the fact that it addresses the conflict not as a matter of science vs. religion but rather freedom of speech and freedom of thought being threatened even if unintentionally. It certainly (and thankfully) does not paint creationism in a positive light but it's not entirely negative but more misguided and fueled by zealousness rather than pure ignorance.
The characters are all given personal reasons for choosing sides and they end up more fascinating as a result of it. Both Tracy and March do a good job. Gene Kelly gives an impressively out-of-character performance as a relentlessly cynical reporter. Dick York and Donna Anderson represent the obligatory star-crossed lovers (the schoolteacher on trial and his fiance who's daughter of a preacher) and do fine if still cliched.
But it's the battle of wits and will power between Spencer Tracy and Frederic March that is the most engrossing because both actors humanize their respective characters and showcase their talents and their faults without hesitation. The rapport between Tracy and March is entertaining to watch from the moment they share screen together right up until the end.
Speaking of which, it does attempt to reconcile science and religion through a symbolic gesture by one character. But I personally believe that whilst they're not mutually exclusive, there are nevertheless definite differences between scientific fact and an opinion stemming from anything else whether religion, politics, philosophy, or whatever. It's noble but quite naive in my opinion. Some may disagree with me and think otherwise. That is ok with me as that is the message of 'Inherit the WInd' - the freedom to think as a human being.