3.5/4

3/4

1.5/4

2/4

1/4

2/4

1.5/4

3/4

3/4

3/4

2.5/4

2/4

2.5/4

2/4

1.5/4

1/4

2.5/4

3/4

3/4

3.5/4

2/4

1.5/4

3/4

3/4

2/4

Next 25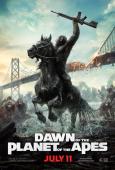 Dawn of the Planet of the Apes
Summer 2014's Best Suprise at the Movies
4/4 stars
There is no reason for this movie to be as good as it is but my word, it really is that good!

Dawn of the Planet of the Apes picks up ten years after the original reboot/remake/whatever that was also surprisingly good as well. Here, the apes have devised a communal hunter-gathering lifestyle that's quite successful until a wandering band of humans belonging to a nearby colony shake things up.
Based off the title, the audience clearly knows how the movie will end in the grand scheme of things but this inevitable conclusion does not stop the script from becoming so enthralling thanks to a tightly plotted script with impressive set pieces and memorable characters. For much of the movie, there's actually little action and even less dialogue with the ape characters (they mostly sign each other) but the writing and the character development is fantastically paced. It continues the previous installment's themes of empathy and cooperation while adding new ones like escalation, xenophobia, and cultural diffusion. There's no reason for a movie about talking apes to pack so many intriguing ideas into its screenplay but then to actually watch them unfold and play out against one another is a surprise treat.
Andy Serkis does a great job reprising his role as Caesar who's older and more wary of humans. Jason Clarke and Keri Russell play the likeable human protagonists trying to keep the peace. As the obligatory military hard-ass archetype, Gary Oldman has less screen presence than I thought he would but that was alright since we had Toby Kebell playing Caesar's ruthless lieutenant Koba. Dear God, Koba is a beast! This character nearly stole the entire movie from Andy Serkis! The intensity of his performance was both frightening and captivating at the same time.
The visual effects are phenomenal. In 2014, we've seen several blockbusters so far that are worthy of an Oscar nomination but DOTPOTA will likely seize the prize in the end. It puts the original film to shame as well as most recent movies which also rely on motion-capture technology.
In short, Dawn of the Planet of the Apes is among 2014's best movies aside from already being a strong contender for the year's best summer blockbuster for two reasons which are a trademark for great sci-fi movies in general: it remembers to be simultaneously entertaining and engaging for much if not throughout its running time.