2.5/4

2/4

3/4

3/4

3/4

3/4

3/4

1.5/4

2/4

2/4

1.5/4

2.5/4

3.5/4

1.5/4

1/4

2/4

3/4

1/4

2.5/4

0.5/4

3/4

2/4

1/4

2.5/4

3/4

Next 25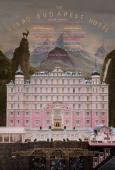 The Grand Budapest Hotel
I know it's not real but I want to visit Zubrowka
4/4 stars
For me, Wes Anderson has always been hit or miss and I have not even seen many of his movies. They were undeniably well made and the acting is always great but Anderson almost always ends up piling to much snark and style for there to be any sense of sincerity to his movies.
Here, his brand of humor and style of filmmaking perfectly compliment each other without ruining the romance and intrigue associated with the different genres that are mashed together in The Grand Budapest Hotel. It's a murder mystery, a buddy movie, a historical drama, film noir, memoir adaptations, and political satire all rolled into one gloriously entertaining film that ranks as one of 2014's absolute best films.
The all-star cast is excellent, especially Ralph Fiennes as the flamboyant and impeccably well-mannered concierge of his East European establishment. Fiennes gives his best performance in years and it's bloody hysterical. The cast is amazing. One of the best ones put together in years and all the major roles are more than functional. Some are even great. F. Murry Abraham and Jude Law both share the duty of narration and introducing audiences to these wacky characters. Tilda Swinton is unrecognizable (again) as an octogenarian socialite, Adrien Brody as a foul-mouthed villain, Saoirse Ronan as a brave heroine, and Willem Dafoe is downright scary as Adrien Brody's henchman. Playing the straightman to so many oddball performances sounds difficult but newcomer Tony Revolori does it so easily as Fiennes' sidekick you'd think he'd been acting for years.
The atmosphere, the sets, the visuals and the costumes at once place it in an ahistorical setting but it feels so familiar with its backdrop being the rise of fascism during the interwar period. To its credit, it gets a lot done within a surprisingly short running time of barely 90 minutes. Actually, my only complaint is that it was not long enough. Okay that's a lie; the format in how it was shot was headache inducing and irritating but strangely the beauty of how TGBH was shot and the acting was enough to placate me.