0.5/4

4/4

3/4

3/4

2.5/4

4/4

4/4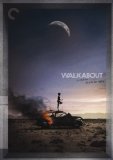 Walkabout
Grade: F
0.5/4 stars
Walkabout

While Jenny Agutter, Luc Roeg, and David Gulpilil deliver a acceptable performances, the movie itself is far from even 'good'. Set in Australia, this small drama struggles to keep itself together. I know I'm even going against what Ebert has said. But this film is very unimpressive.

A teenage girl and her younger brother are stranded, almost killed, by their psychopath father. They must learn to cope with the wild in the Australian outback in order to survive. They meet an aborigine who helps them along their journey.

The film makers (very) loosely based the film off of a book. Nicolas Roeg, the director has even come out and said they really didn't have a plan, they just filmed whatever they saw. And it shows. The film looks like it was patched together with 90 minutes of stock footage. There are two scenes where they just set the camera up and had the lead actress run around nude and one with the three main characters. Again these scenes added nothing to the plot and were in several ways offensive. It seemed more like as if the director wasn't getting enough at home.

The camera work itself is painful to watch. The movie is filled with close ups of bugs, rocks, animals and the like. These shots have nothing whatsoever to do with the film. The movie feels like a want-to-be filmmaker's attempt at art and failing miserably.

I did not enjoy this film. I saw it in a film class in college. I have never been more turned off by a film than i was by this one. I would strongly recommend AVOID this film.