2.5/4

2.5/4

3/4

2/4

2.5/4

2/4

1.5/4

2.5/4

1.5/4

2.5/4

3/4

3/4

1.5/4

2/4

2/4

2/4

2.5/4

1.5/4

3/4

1/4

2.5/4

3/4

2.5/4

2/4

2/4

Next 25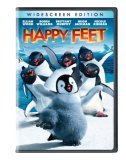 Happy Feet
Falls apart when the environmental message appears
1.5/4 stars
In Antarctica, a colony of Emperor Penguins are living peacefully. A female penguin named "Norma Jean" (voiced by Nicole Kidman) finds a mate named "Memphis" (voiced by Hugh Jackman) by singing a "heartsong" ("Kiss" by Prince), to which "Memphis" responds with his own "heartsong ("Heartbreak Hotel" by "The King of Rock 'n' Roll" Elvis Presley). The two hatch a child named "Mumbles" (voiced by EG Daily)

"Mubles" is not your typical penguin, as he is unable to carry a "heartsong" if it had handles on it. He becomes an outcast, but a female named "Gloria" (voiced by Alyssa Shafer) becomes the only penguin who shows him a shred of respect. It is also obvious that "Mumbles" has feeling for the female penguin.

Years later, the fish population the penguins live off of is dying out. And "Mumbles" goes on an adventure to find out just exactly what is happening with their food.

But, what he finds not only affects his colony, but other species he comes across on his adventure and what he learns are "aliens" (humans).

The first thing I have to say is that the animation is pretty good. The characters move realistically, and they do get the smallest detail in the look of the character. The problem is that, thanks to the location the movie takes place, there is just too much white. You get a few shades of blue, some blacks and grays, and a little yellow and brown. But, there is just too much white, and the scenery is pretty boring.

Like I said, the characters are designed nicely. The actors enhance the characters with their performances. Fortunately, some actors were able to provide multiple voices for different characters. One that stands out is Robin Williams, who provides a voice for about three characters -- including the narrator, which is not in the movie that much.

For the majority of the movie, you get some popular tunes from the last 40 years. Many of the songs are used fairly well to set up scenes. Those who sing the songs do a pretty good job with the covers. However, Prince, who provides at least one original tune, should have been used to perform his hit "Kiss", which "Norma Jean" uses as her "heartsong". Unlike recent movies I've seen, the soundtrack is memorable thanks to the use of many well known songs. I would have liked to have seen a few more original songs to help advance the mood of movie.

And speaking of the movie's mood, it changes when the environmental message comes into light. This is when the movie completely falls apart. In my opinion, the movie makers completely forgot to develop characters and storylines that were presented earlier in the film. For example, instead of "Gloria" going with "Mumbles," she stays with the colony. They completely missed a chance to advance the blossoming romance between the two. Other characters, who are introduced as the environmental message begins to appear, have no chance of development at all.

Another thing that is wrong with this movie is that this really isn't for a young audience. You get some adult humor that should slip past children, and some larger species of Antarctic animals chasing and almost killing a main character.

As for my recommendation, I am somewhere between Yes and No. Prior to the enviornmental message, I would say yes, but only for a rainy day movie. After the environmental message appears, I can't recommend it.