2.5/4

2.5/4

3/4

2/4

2.5/4

2/4

1.5/4

2.5/4

1.5/4

2.5/4

3/4

3/4

1.5/4

2/4

2/4

2/4

2.5/4

1.5/4

3/4

1/4

2.5/4

3/4

2.5/4

2/4

2/4

Next 25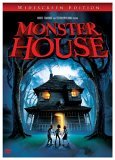 Monster House
Great animation, adults may see it as a comedy
2/4 stars
"DJ" (voiced by Mitchell Musso) has been noticing some strange goings-on at the house across the street owned by the mean, old "Nebbercracker" (Steve Buscemi). He has been spying on the house and "Nebbercracker", even though he has been told by his parents (voiced by Fred Willard and Cathrine O'Hara in cameo roles) not to.

"Nebbercracker" is known to take anything from children which lands on his property, including the basketball of "DJ's" friend "Chowder" (voiced by Sam Lemer).

"DJ" tries to tell adults that there is something up, but they won't listen. So he, "Chowder" and a neighborhood girl named "Jenny" (voiced by Spencer Locke) investigate the house after "Nebbercracker" has an apparent heart attack while yelling at "DJ" amd "Chowder" and rushed to the hospital.

What they find is a house that seems to be alive, and try to kill it themselves based on the advice of a video game junkie (voiced by Jon Heder).

But, they eventually find out the truth the the house and gain an unexpected ally in their battle with the house.

The first thing you will notice is that the animation is spectacular. It has an almost realistic 3-D look with the depth of the scenery. It actually looks more like a 3-D model than a 2-D computer animated movie since it really looks as if you are looking into the distance in some scenes. And the detail is amazing in this animation. In one scene you are looking at the house, with "DJ" blocking most of the camera shot. If you look closely at his shirt in this particular scene, you actually see the stitching of the sweater. Even the inanimate things seen in this film (buildings, trees, fences) look like they are not computer animated. Heck, you could even see the individual blades of grass.

There are some great performances in this film. At times I had to remind myself that these are animated characters. The delivery of lines were very believable and helped bring the characters to life. I'd go as far as saying that the chemistry between the performers was excellent. Not one person who lent their voice to this film appeared to be reading from a script, which is common practice when doing the voiceovers for animation.

This is a very gentle horror movie. You will not see any blood in this film at all. Very young kids might scream, but older kids and adults will take the scary moments as comical more than scary. I do not believe this movie will cause nightmares.

For me, the comedy was more chuckle-worthy more than anything else. I didn't chuckle or laugh at many jokes, but I did at a small chunk of the comedic moments. Kids will definitely laugh at these moments if you ask me. There is even some jokes targeted to adults.

The music in this movie is OK, but nothing really stands out. You mostly have instrumentals in the entire movie.

This movie is not perfect. But it is pretty fun. I would check it out if you catch it on HBO or another movie network. It might even be a pretty good rental for your kids.