2.5/4

2.5/4

3/4

2/4

2.5/4

2/4

1.5/4

2.5/4

1.5/4

2.5/4

3/4

3/4

1.5/4

2/4

2/4

2/4

2.5/4

1.5/4

3/4

1/4

2.5/4

3/4

2.5/4

2/4

2/4

Next 25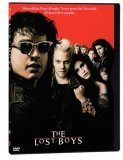 The Lost Boys
Not the best vampire movie
2.5/4 stars
A recently divorced mother (Diane Weist) and her two sons (Jason Patric and Corey Haim) move to "Santa Clara, California" (Santa Cruz, California, which is where the movie was filmed) to live with her father (Barnard Hughes). Unknown to them, "Santa Clara" is having a rash of missing children.

Shortly after they settle in, the elder son, "Michael" (Patric), attends an outdoor concert and sees a beautiful girl (Jami Gertz) elsewhere in the audience and they momentarily lock eyes and show signs of attraction to each other. Later on, they bump into each other on the unnamed local boardwalk amusement park (Santa Cruz Beach Boardwalk in reality) where she introduces herself as "Star". He then runs into her boyfriend, "David" (Kiefer Sutherland), who leads a trouble-making motorcycle gang in the town.

After a night of dangerous dares with the gang, "Michael" begins to change. He sleeps until sundown, and begins to wear sunglasses when he had to be outside during the day.

Meanwhile, at the local comic book shop, the younger son, named "Sam" (Haim), meet two weird teens (Corey Feldman and Jamison Newlander) who tell him to read horror comics, which he personal hates, because they believe that there are vampires in town. Of course, "Sam" doesn't believe them and just plays along with them.

Shortly after, "Sam" starts to see signs of vampirism in his brother. Then realizes what those two guys in the comic book shop said is true when he and his brother see "Michael's" faded image in a mirror in their grandfather's house.

While this is happening, their mother begins dating a video store owner (Edward Herrmann). Of course, she doesn't believe her younger son's stories that "Michael" has been turned into a vampire.

If you ask me, the performance are not perfect. There were times that they appeared pretty week, especially from the youngest members of the main cast. I felt that Feldman was not really into his character and it pretty much showed, and I could not believe him in this role. Haim was also unbelievable when he had to act scared and had scream his head off. On the other hand, Sutherland was good as "David". He acted the role as mysterious and used a tone of voice through out the film that made you just wonder if he was the leader of the vampires. Out of the two on-screen brothers, Patric's performance was a bit better and was a fair rival to "David".

I believe that the relationship between "Star" and "Michael" was not explored enough. I would have liked to have seen his pursuit of her expanded a bit more. I would have also liked to have seen "David" show that he too was more attracted to "Star" then he let on to give them even more reason to not like each other when "Michael" began to resist "David" in his attempt to bring "Michael" into the fold.

As for the scares, I was pretty disappointed. In fact, I pretty much knew when a vampire was going to attack -- and I didn't listen to the music, which is always a cue as to when something is going to jump out and scare the ones on screen. Also, the blood is minimal in this movie. In fact, I don't think it even deserved the R rating that it got. Violence is also pretty tame in the film.

Of course there is special effects in this film, but none of them stand out. The vampire make-up effects are pretty typical of modern vampire movies as well and, even though they look good, they aren't that impressive.

The music is not great, and does not help build the much needed tension for a vampire movie. There are some other songs that are either the original, or covers of popular classic rock songs. I just couldn't get into the music, except for the classic rock tunes I recognized.

As for the comedic part of the movie, the jokes pretty much flop. I chuckled at a few, and rolled my eyes at others because they weren't delivered properly.

Many of the characters are poorly developed in this movie, as is key relationships. I felt that Feldman and Newlander were a little out of place, and were plot device that failed a bit. I also didn't like how "Grandpa" (Hughes) was used in this film. He was barely in the film, and didn't help advance the story much. I also felt that the motorcycle gang members were not developed at all.

This is one I would not rent, but would probably watch it on HBO or another movie channel. Even though I did like it, I can't say spend some money on this one. Even though I can recommend it, I would have to say it's not one that is worthy of being on a "Must See" list.