2.5/4

2.5/4

3/4

2/4

2.5/4

2/4

1.5/4

2.5/4

1.5/4

2.5/4

3/4

3/4

1.5/4

2/4

2/4

2/4

2.5/4

1.5/4

3/4

1/4

2.5/4

3/4

2.5/4

2/4

2/4

Next 25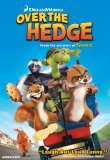 Over the Hedge (2006)
Cute, but disappointing for adults
2.5/4 stars
"RJ" (voiced by Bruce Willis) is an opportunistic raccoon who has a huge problem -- he destroyed the food stash of a bad-tempered grizzly (voiced by Nick Nolte) who orders "RJ" to get him a new stock of food or he will kill him. In search of new food, all of which is human-made, he runs into a group of wildlife which considers each other family.

While these friends were hibernating, a hedge was put up by humans who have moved into housing built as the woodland creatures slept. "RJ" recruits the animals to go "over the hedge", under protest of their turtle leader "Verne" (voiced by Gary Shandling), and gather food for the bear. However, he never tells them what they were actually gathering the food for.

On the other side of the hedge, they find a new world -- and one mean lady (Allison Janney) who wants them killed so the properties prices don't go down.

This movie is pretty cute, but it's not perfect. I guess young kids will like it, but adults may just role their eyes at the comedic antics by the animals. The comedy is chuckle -worthy, but not much more. There were some pretty silly moments, but a lot of them were pretty predictable.

The animation is good in this film. The animals are designed in a cartoonish way that enhances a lot of the comedic moments they get into. The humans are also pretty cartoonish looking, and aren't as impressive in my opinion.

Although some of the soundtrack does have some pretty good songs, they are pretty forgettable. None of the songs will get you to have them run in your head over and over for days after you see this film.

There are some good performances in the film, especially from the main animal cast. It is too bad that the script they have to work with is pretty predictable in just about every aspect. The performances are probably the best part of the film that would make you take a look at it once.

Sadly, this film is obviously targeted to the younger members of the audience more than the entire family. This movie has little to no situations or jokes aimed at the older members of the audience that would make them laugh as much as the young ones.

If you have young kids, then this might be a one-time rental, and that's it. I don't think it's good enough to buy for your personal movie library.