2.5/4

2.5/4

3/4

2/4

2.5/4

2/4

1.5/4

2.5/4

1.5/4

2.5/4

3/4

3/4

1.5/4

2/4

2/4

2/4

2.5/4

1.5/4

3/4

1/4

2.5/4

3/4

2.5/4

2/4

2/4

Next 25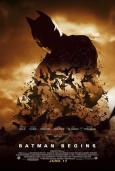 Batman Begins
The Dark Knight is back
3/4 stars
Scarred for life by being the sole witness to the murder of his parents (Linus Roache and Sara Stewart), "Bruce Wayne" (Christian Bale) finds himself in a foreign prison. He tolerates cruel treatment to observe the ways of how the criminal mind works. When he is placed into solitary confinment, he us visited by the mysterious "Ducard" (Liam Neeson), who offers "Wayne" a chance to join "The League of Shadows", a secret group of vigilantes led by "Ra's Al Ghul" (Ken Watanabe).

"Ducard" trains "Wayne" in the ways of the ninja and the ideals of "Al Ghul". He also shows him how to manipulate the fears of his enemy by conquering his own, which, in this case is bats.

After refusing to execute an accused murder to show his loyalty to the league, he returns after seven years to "Gotham City". There, "Wayne" secures assistance from his family's loyal butler "Alfred" (the wrongly cast Sir Michael Caine), one of the few good cops in the city named "Jim Gordon" (Gary Oldman), family friend "Lucius Fox" (Morgan Freeman). Together, some unknowing, they first bring down the top crime boss of "Gotham City," "Carmine Falcone" (Tom Wilkinson).

With "Falcone" behind bars, "The Batman" goes after a psychologist who specializes in fear by the name of "Dr. Jonathan Crane" (Cillian Murphy), who uses a toxin which induces extreme fear, and a scarecrow mask on his victims -- all of whom worked for "Falcone" and the crime boss himself. "Dr. Crane" plans to put the toxin in the city water supply when Assistant District Attorney "Rachel Dawes" (Katie Holmes) learns of his plans.

But what "Batman" doesn't expect is whom "Dr. Crane" is working for.

This is not the 1960's TV "Batman", folks! This one is darker, more violent and less campy. Many of the scenes are emersed in dark colors and shadow, as are some characters wardrobes.

The performances are pretty good, with many strong performances done by many members of the main cast. Just about every cast member worked well in their roles, with exception of Caine. In my opinion, Caine, who did a good job in his role, was wrongly cast. Having somebody with such an established career as Caine has, he just should not be playing a butler. It was just a bad choice of a role for him in my opinion.

Two props that just didn't work well in my opinion were the "throwing bat-stars" that "Batman" used to break lightbulbs before he attacked criminals, and the "Batmobile" itself. The "throwing bat-stars" (for lack of a better name) looked pretty flimsy and weak to me. And that was no "Batmobile"! That car looked like it should have been shipped over to Iraq than given to a comic book superhero.

There are some very wild visual effects in this film when the audience is suppose to be seeing through the eyes of the victims of "Dr. Crane's" fear toxin. There are also some horrible edits during fist fights between "Batman" and the criminal elements.

Another problem with this film is development of subplots and characters. The only way to fix the problems with character development is to familiarize yourself with the characters, many of which were introduced in the comic books following a reboot of the series by DC Comics. The only character that you would not be able to familiarize yourself with buy reading the comic books is "Dawes," who was created for this film.

Despite the flaws, this movie is still enjoyable thanks to some strong performances and a well written story. It could be a good rental.