2.5/4

2.5/4

3/4

2/4

2.5/4

2/4

1.5/4

2.5/4

1.5/4

2.5/4

3/4

3/4

1.5/4

2/4

2/4

2/4

2.5/4

1.5/4

3/4

1/4

2.5/4

3/4

2.5/4

2/4

2/4

Next 25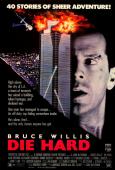 Die Hard
Excellent action-packed movie with few flaws
3/4 stars
"John McClane," a New York City police officer, has finally got some time off, and goes to California to spend Christmas with his estranged wife (Bonnie Bedelia) and their two kids (Taylor Fry and Noah Land). He is taken from the airport to his wife's place of work, a Japanese-owned skyscraper which is still under construction by a very friendly limo driver (De'Voreaux White), who once worked as a taxi driver.

Not too long after "McClane" arrives to the building, meets his wife's boss and co-workers and has a continuing argument with his wife the building is taken over by a group of terrorists who take "Holly" (Bedelia) and her co-workers hostage. "McClane" is able to slip away as chaos ensues, and he is unable to contact the Los Angeles Police for help until he takes things into his own hands and is able to get a hold of one of their walkie-talkies and contacts the LAPD, who warns him to get off the frequency until shots are fired at McClane, and the cops send "Sergeant Al Powell" (Reginald Veljohnson), who is a few blocks down the road buying Twinkies for his pregnant wife.

Eventually, back-up arrives at the building as all hell breaks loose inside with "McClane" taking the terrorists out one-by-one as "Sgt. Powell" has to deal with inept superiors and, eventually FBI agents who happen to share a last name, but are unrelated.

No "McClane" has to save his wife, her co-workers and himself as the police work to fulfill the terrorists demands.

"Die Hard" is a strong action movie that gives you a little bit of time to catch a breather. All the action scenes, which is mostly gun battles, have lots of energy and are nicely filmed. You get some much-needed breaks when "McClane" is catching a much needed breather, or talking to "Powell".

There are some character development problems in this movie, especially with supporting characters. Another problem is that "Powell" and "McClane" are the only law enforcement characters in this film that are believable. All the others shouldn't even be carrying a badge. There are also some characters which have very little to do.

Except for during the action scenes, none of the scenes really stand out. The sets are quite boring and poorly lit, which is explained in the movie.

The script is well written, and makes a plot that is somewhat hard to believe really believable. I personally can't see one man taking on a group of terrorists by himself and being able to keep one step ahead of them.

Despite the forgettable flaws, this movie is a very good action movie that would be good as a first choice rental. It could also be a good addition to your movie collection.