2.5/4

2.5/4

3/4

2/4

2.5/4

2/4

1.5/4

2.5/4

1.5/4

2.5/4

3/4

3/4

1.5/4

2/4

2/4

2/4

2.5/4

1.5/4

3/4

1/4

2.5/4

3/4

2.5/4

2/4

2/4

Next 25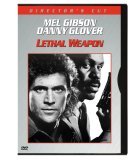 Lethal Weapon
Starts off a little sow, but finishes with a bang
3/4 stars
Undercover Los Angeles Police Officer "Sergeant Martin Riggs" is too close to taking his life over the death of his wife, who was killed in a car bombing meant for him. And just as he is about to pull the trigger to end it all, something enters his head and makes him put the gun down. He is quite unstable, and nobody wants to be his partner.

On the other hand, "Sgt. Roger Murtaugh" (Danny Glover), who works in Homicide, is stable, with a wonderful family. He has turned 50, and wants to make it to his retirement. To his surprise, he is given a new partner, a partner nobody wants to work with -- "Riggs."

An old buddy of "Murtaugh" wants him to kill those responsible for giving his daughter the drugs that pushed her into jumping off a high-rise. These bad guys are lead by "General Peter McAllister" (Mitch Ryan) and "Mr. Joshua" (Gary Busey), both of whom has Special Forces military training. The same type of training that "Riggs" has while he was in the military.

One thing that really carries the movie is the chemistry between Glover and Gibson, who was launched into superstardom with the role of "Riggs". Gibson is possibly the most memorable of the two actors in this movie due to taping into the part of his personality needed to play the role of a guy who wants to take his own life, but something keeps him going despite thinking about killing himself daily. Glover is the perfect straight man for Gibson. He plays the role where he can't help but take a risk that "Riggs" has no problem with.

Busey, who has played similar roles that are much meaner, does a good job. However, he appeared to hold back just a little bit to make his character a real bad guy. Ryan was not as strong as a bad guy, but his performance isn't that bad.

There are some predictable elements in this movie. One of which is that the bad guys find out where "Murtaugh" lives, and kidnaps his oldest daughter (Traci Wolfe, whose only movie credit is this role).

The action scenes, which are spread out a little too much in my opinion, are intense and spectacular. The music and editing really help these scenes to keep you on the edge of your seat at times.

The pace of this film is done nicely. If any scene lagged, they quickly passed without notice. The direction was also done pretty nicely.

In my opinion, this would be a pretty good choice for the next time you want to rent a movie.