2.5/4

2.5/4

3/4

2/4

2.5/4

2/4

1.5/4

2.5/4

1.5/4

2.5/4

3/4

3/4

1.5/4

2/4

2/4

2/4

2.5/4

1.5/4

3/4

1/4

2.5/4

3/4

2.5/4

2/4

2/4

Next 25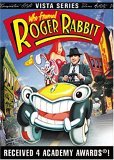 Who Framed Roger Rabbit?
An animation fan's ultimate dream come true
4/4 stars
Ever wanted to see the "Looney Tunes" on the screen with "Betty Boop" (voiced by Mae Questel), then this is certainly the movie for you. However, due to some studios that loaned their characters to the movie, you won't see a few of the classic characters we love.

It's the late 1940's, and "Private Detective Eddie Valiant" (Bob Hoskins) has been hired by the head of "Maroon Studios," and creator of "Maroon Cartoons," "R.K. Maroon" (Alan Tilvern) to get photographic proof of an adulterous affair between "Marvin Acme" (Stubby Kaye), creator of some of the greatest gags in cartoon history and owner of "Toontown", and popular lounge singer "Jessica Rabbit" (voiced by Kathleen Turner), the wife of popular cartoon star "Roger Rabbit" (voiced by Charles Fleischer). "Valiant" gets his proof, and shows the evidence to "Roger," who goes berserk and runs out of "Maroon's" office.

The next morning, after a night of drinking, "Eddie" reads the newspaper and discovers that "Roger" has been arrested for the murder of "Acme."

Now, despite his grown hatred for "Toons" since one killed his brother (Eugene Guirterrez, in his only movie role and seen in flashbacks), goes in search for "Acme's" last will and testiment that reportedly gives ownership of "Toontown" to his beloved "Toons" as he protects "Roger" from being dunked in "Dip," a chemical solution created by "Judge Doom" (Christopher Lloyd) that is the only thing known to kill "Toons."

The first thing you will notice in this movie is how great the cartoon characters blend into the real world. Thanks to some robotic technology that were used to place the animated characters which interact with their human co-stars makes their reality quite convincing. The characters are also nicely animated. The animators did a great job adding shadow and other tricks to make the characters interact with real people and objects nicely.

The script is nicely written. It's got great dialogue filled with some memorable lines and some fantastic one-liners that I guarantee will make you laugh. The characters, not counting "Toons," feel like they belong in a film-noir flick, which this movie gets a good chunk of inspiration from.

Everything about this film, from the wardrobe to the score, nails the time the movie is set in. And the performances of all the human actors just added to the movie, as they made their performances a great tribute to 1940's movies similar to this one.

The only problem I had with the film is that the version I watched was full-screen. There are numerous scenes with a lot of animated action going on that a wide-screen format would be the only way to see everything.

A lot of the humor is targeted to the adult audience, but there are some jokes which target the younger members of the audience, as well as the adults. We also get to see many of the comedic bits from various cartoon characters that make a cameo in the movie that helped us grow to love them.

There is very little violence, most of which is done for a laugh. But there is no blood anywhere to be seen in this film.

If you want a good movie to rent this weekend, check this one out. You won't be disappointed.