2.5/4

2.5/4

3/4

2/4

2.5/4

2/4

1.5/4

2.5/4

1.5/4

2.5/4

3/4

3/4

1.5/4

2/4

2/4

2/4

2.5/4

1.5/4

3/4

1/4

2.5/4

3/4

2.5/4

2/4

2/4

Next 25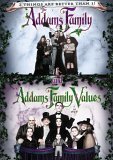 The Addams Family
Other movies based on TV shows should be like this
3/4 stars
The "Addams family" are, shall I say a "unique" family. They live in a rundown, old house which might remind you of the house in the classic movie Psycho. The head of the household is "Gomez" (the late Raul Julia), his wife, whom he loves passionately, is "Morticia" (Anjelica Houston). Their children, who love to torture each other (literally), are "Wednesday" (Christina Ricci) and "Pugsley" (Jimmy Workman). Living with them are "Granny" (Judith Malina), the family butler "Lurch" (Carel Struycken) and the disembodied hand known as "Thing" (the hand of Christopher Hart).

When he was younger, he had a fight with his brother "Fester" (Christopher Lloyd) and "Fester" ran away to the Bermuda Triangle. For 25 years, "Gomez" has been awaiting for his brother's return.

The Addams mansion is filled with secret tunnels, and a huge vault filled with the family fortune -- gold dubloons. "Tully Alford" (Dan Hedaya) is the family lawyer who meets with "Gomez" monthly to collect gold for the family account.

"Tully" owes a lot of money to "Abigail Craven" (Elizabeth W. Wilson) and her son "Gordon" (Lloyd). "Tully" realizes that "Gordon" is a dead ringer for the missing "Fester", and the three conspire to get the Addams family gold by having "Gordon" pretend to be the missing Addams.

Posing as her son's doctor, "Abigail" convinces the Addams that he is the long lost "Fester". However, "Gomez" becomes very suspicious when the man posing as his brother is unable to recall many things. "Wednesday" herself had become suspicious since she first met her "Uncle Fester".

The Addams Family, which is based on the 1964-66 National Broadcasting Company sitcom of the same name, is one of the most visually wild movies made to that point. There are lots of on-set special effects and props used for some huge chuckles, if not laughs.

The cast plays up the comedy very well, and are wonderful in their roles. Julia and Houston make you believe that there is strong passion between the two. The rest of the cast, as well as Julia and Houston, take camp and slapstick to new levels. Ricci stands out from her child co-star, and has one of the best poker faces I've ever seen.

The sets, except for the "outside world", are dark and gloomy. The cast makes their characters look quite comfortable in their surroundings.

There is little development in the supporting characters, however there is just enough to get them over with the audience. The supporting cast members are quite good, including Hedaya, who plays his character like every other character he's played.

This movie is not for the very young, but older kids could possibly watch it with their parents. There are a few scenes which are mildly violent, which are used for laughs.

Overall, The Addams Family is an enjoyable movie that should be a good rental, of not one to own.