2.5/4

2.5/4

3/4

2/4

2.5/4

2/4

1.5/4

2.5/4

1.5/4

2.5/4

3/4

3/4

1.5/4

2/4

2/4

2/4

2.5/4

1.5/4

3/4

1/4

2.5/4

3/4

2.5/4

2/4

2/4

Next 25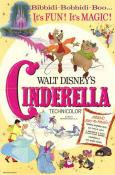 Cinderella (1950)
A pretty good classic
3/4 stars
"Cinderella" is based on the French author Charles Perrault (January 12, 1628–May 16, 1703) 17th century fable about a seriously mistreated stepdaughter who finds her "Prince Charming" (voiced William Phipps) with the help from her "Fairy Godmother" (voiced Verna Felton).

The script of this movie is fairly weak, but the classic Disney animation is spectacular -- even after 55 years.

There are a few plot holes, and poor character development. Many of the characters could have been expanded on a lot more.

One character that's poorly developed, more than any other in the movie is "Prince Charming". The character is wonderfully animated, like the rest, but he has the fewest lines and screen time. Another character that should have got more screen time is the "Fairy Godmother", I would have liked to have seen her come back to aid "Cinderella" (voiced by Ilene Woods) and the "mice" (voiced by Clint McCauley and James MacDonald) get "Cinderellie", as she was affectionately called by the "mice", get out of her locked room near the end of the movie.

One performace that stands out is by Eleanor Audley, who plays "Lady Tremaine". Just by using her voice, she created a character that was purely mean and cold as ice toward "Cinderella".

The "mice" are very good comic relief, however the mostly squeeky voices got under my skin rather quickly. I personally would have liked to have seen less of them. Other comic relief spots were delivered by "Cinderella's" pet dog, "Bruno" (MacDonald) and his archrival, "Lucifer", the pet cat of "Lady Tremaine" and her "daughters" (voiced by Rhoda Williams and Lucille Bliss).

However, it's the classic animation that makes this movie the classic it is. The use of shadows and color is amazing. And thanks to the Disney tradition of using real life models to aid in animating the natural movement of living beings, clothing and everything else there is a pretty realistic feel to the movie.

Children will love the story, except for boys of course, and the adults will love the animation. This is a classic that is worth taking a look at.