2.5/4

2.5/4

3/4

2/4

2.5/4

2/4

1.5/4

2.5/4

1.5/4

2.5/4

3/4

3/4

1.5/4

2/4

2/4

2/4

2.5/4

1.5/4

3/4

1/4

2.5/4

3/4

2.5/4

2/4

2/4

Next 25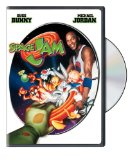 Space Jam
A fun movie for the family
3/4 stars
Famed NBA Superstar Michael Jordan has announced his retirement and desire to enter the world of professional baseball. However, unbeknownst to him, he is destined to play one more basketball game where the stakes are more important than an NBA championship -- he must play to save the animated icons, the Looney Tunes from being forced to work for a money-hungry alien (Danny DeVito).

Surprisingly, Jordan gives a pretty good performance for his acting debut -- especially since most of the cast are added in during post-production. Performances from other NBA stars who make appearances are also good. Another good performance is done by DeVito, who isn't in the movie enough i think.

On the other hand, Bill Murray and Wayne Knight put forth disappointing performances. Murray's performance was pretty sarcastic, which he is known to be in his roles, but he just didn't seem to care about his performance this time around. And Knight looked as if he was just trying to act to me and wasn't comfortable -- in my opinion, he is not a great actor.

The animation is pretty unique for Looney Tunes. Unlike the cartoons you've seen on Saturday mornings or the Cartoon Network, this movie tries to make the two-dementional characters appear three-dementional with shadowing on the bodies of the cartoon characters.

One thing that seriously helps the believeability of the interaction between the humans and animated characters is that the animated characters are the humans look as if they are looking at the cartoons. In movies like "Who Framed Roger Rabbit", the human actors looked as if they were looking at something other than the cartoons. In "Space Jam" you believe that the cartoons and humans are actually looking at each other.

The visuals were amazing. The shadow on the animated characters made them look more realistic than in their normal environment. The colors are rich, and well designed. Even the Looney Tunes look better than they do in their classic cartoons.

One thing that stands out in the visuals department is the basketball arena. Check out the audience in the background as the game is going on and you will see what I mean.

To truly appreciate the visuals, I would suggest that you check out this movie in letterbox format -- especially since the Looney Tunes are shorter than their human co-stars.

There are very few plot holes in the movie, but they are so minor you won't realize they are there unless you see this movie more than once.

The soundtrack is also pretty good, however only two of the songs really stand out.

"Space Jam" is a good movie for the entire family, although children will like it more than the adults.