2.5/4

2.5/4

3/4

2/4

2.5/4

2/4

1.5/4

2.5/4

1.5/4

2.5/4

3/4

3/4

1.5/4

2/4

2/4

2/4

2.5/4

1.5/4

3/4

1/4

2.5/4

3/4

2.5/4

2/4

2/4

Next 25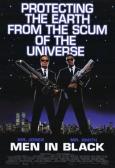 Men in Black (1997)
Excellent movie the entire movie can enjoy
3/4 stars
Based on the comic book series of the same name, "Men In Black" is a fun and entertaining movie with lots of comedic bits that will make all ages laugh.

Tommy Lee Jones and Will Smith portray Men In Black agents known only as "J" (Smith), a former NY City police officer, and the veteran Man In Black, "K" (Jones).

"K" recruits "J" for service with the ultra-secret organization that works above the law and government that police extra-terristrial activity on Earth after "J" easily runs down an agile alien who was being chased by him and obviously out of shape NYPD officers.

Just outside New York City, a ship crashes, and the alien takes the form of the wife abusing farmer.

"J" and "K" are ordered to investigate the crash and learn that the alien is a highly dangerous species called a "Bug" (Vincent D'Onofrio).

The two then are ordered to investigate the murders of a jeweler, who is actually a royal alien, and his companion. The two arrive at the NYC City Morgue, where they find, along with a morgue worker (Linda Fiorentino), that one of the murdered is actually a tiny alien inside a robot.

Just before he dies, the alien, who has a loyal pet cat that will not leave him, tells "J" and the morgue worker that "the galaxy is on Orion's belt."

"J" and "K" have to find the galaxy, which the "bug" is also searching for, as a warship from the dead royal's planet enters orbit around Earth - or the alien ship will destroy Earth.

The special effects are excellent, but, like most computer generated characters, they don't look real. The puppets built for many scenes are slightly better, though they also don't look like living creatures.

The acting is campy much of the time, but that is by design. Smith, and especially Jones are fantastic in their roles. I found D'Onofrio amusing as the "Bug," but he just doesn't come across as an evil alien who does not care for other creatures, and Fiorentino comes across as a bit too serious most of the time when the mood is lighter.

The movie is an excellent movie for the entire family, with only a sprinkling of strong language that may offend some.