2.5/4

2.5/4

3/4

2/4

2.5/4

2/4

1.5/4

2.5/4

1.5/4

2.5/4

3/4

3/4

1.5/4

2/4

2/4

2/4

2.5/4

1.5/4

3/4

1/4

2.5/4

3/4

2.5/4

2/4

2/4

Next 25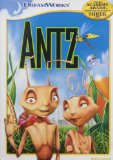 Antz
Much better than "A Bug's Life"
3/4 stars
I really enjoyed "Antz" more than "A Bug's Life". The story, acting and visuals were much better in this movie by far.

The computer graphics are simply marvelous. The details of the surroundings and the insects are amazing. The animators went as far as creating reflections and other small details that, to me, made the world of the insects very believable, unlike the cartoonish look of "A Bug's Life".

Woody Allen was perfectly cast for the role of "Z". This is probably his best movie since his 1983 movie "Zelig". I also believe that Sharon Stone, Sylvester Stallone and especially Gene Hackman were cast perfectly.

Each actor brought their characters to life. Every one of them got the viewer(s) to care, or detest, their character. The dialog was well written and all the actors delivered their lines perfectly. None of them appeared to just recite them from memory.

There are some violent scenes and some fairly, but not too severe, language. I would not recommend this movie for very young children. I would say they should see "A Bug's Life," which is targeted to the very young audience more than "Antz" is.

Overall, this movie is fun, enjoyable entertainment that can be watched again and again. "Antz" is far superior to "A Bug's Life".