2.5/4

2.5/4

3/4

2/4

2.5/4

2/4

1.5/4

2.5/4

1.5/4

2.5/4

3/4

3/4

1.5/4

2/4

2/4

2/4

2.5/4

1.5/4

3/4

1/4

2.5/4

3/4

2.5/4

2/4

2/4

Next 25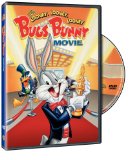 The Looney, Looney, Looney Bugs Bunny Movie
A real fun time-waster
3.5/4 stars
"Friz Ferleng's Looney, Looney, Looney Bugs Bunny Movie" is one of the best movies to waste approximately 90 minutes of your time. It features the amazing voice talent of the late Mel Blanc as a good chunk of the cast.

The movie is actually a bunch of classic "Looney Tunes" shorts threaded together with three different plots for three different acts.

Before the start of the feature presentation, we are treated with the Acadamy Award-winning "Knighty Knight, Bugs" which features "Bugs Bunny" (voiced by Mel Blanc) as the court jester of the Knights of the Round Table, who is picked to face the devious "Black Knight", played by "Yosemite Sam" (voiced by Blanc) and his dragon.

Then we are treated with a small look at the early years of Hollywood in a segment with "Bugs" doing a voice-over, which at one point is hard to hear when his voice-over is placed over a clip from a "Speedy Gonzales" (voiced by Blanc) short. In "Act 1" we see three different "Looney Tunes" shorts featuring "Sam" chasing "Bugs" woven together with segments featuring "Sam" going to Hell, and getting three chances (the three shorts) to send "Bugs" to Hell in his place.

In "Act 2," which is titled "The Unmentionables," the three shorts are woven together with a parody of "The Untouchables," with "Bugs" as "Elegant Mess" chasing the dim witted mobsters "Rocky" (voiced by Blanc) and "Mugsy" (voiced by Blanc). One of the shorts features "Sylvester" (voiced by Blanc) and "Tweety Pie" (voiced by Blanc).

In the final Act, titled "The Oswald Awards," we see three more classic "Looney Tunes" woven together by a parody of an Oscars ceremony that ends with a battle between "Bugs" and one of his biggest rivals, "Daffy Duck" (voiced by Blanc).

The classic animation still holds up quite nicely after 27 years after the release of this movie. The characters move quite nicely, and the mouths move in synch with the voices, unlike the popular Anime that dominates cartoons today. There is comedic violence in this film, but no blood or deaths. And the humor is filled with great puns, jokes and sight gags that will make all ages laugh.

Blanc, who dominates the cast of zany characters, is simply wonderful. And thanks to movies like this, his talent will live on entertaining new audiences for years to come.

"Looney Tunes" fans will smile when all their favorite characters come on the screen screen, even if they are in a non-speaking cameo. Kids, and kids-at-heart, will also laugh at the same jokes over and over.

With Blanc's voice talents, and the fantastic comedy throughout the film, this would be a great addition to your collection.