1/4

0.5/4

1.5/4

1.5/4

3/4

3.5/4

3/4

1/4

1.5/4

3/4

1/4

1/4

2.5/4

1.5/4

2.5/4

3.5/4

3/4

2/4

3/4

2/4

3/4

3.5/4

1/4

3/4

2.5/4

Next 25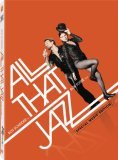 All That Jazz
All That Jazz - Review
4/4 stars
"At least I don't have to lie to you anymore"

"All That Jazz" might be one of the best films I've seen in awhile. Depressing but brilliant . Taking the Broadway style of regret and death by making it so captivating. Director Bob Fosse takes the most negative parts of his life in the musical business and leaves a lasting memory into this masterpiece.

A unique character study of Joe Gideon (played flawlessly by Roy Scheider), he directs and writes Broadway musicals. While also has sex with every woman he can, smokes a lot and I do mean A LOT. He's very unstable and I will leave it as that. However, I will leave you with this, it's Roy Scheider best performance of his entire career.

Everything from the superb editing, characters, and the opening scene are on another level of extraordinary. Especially the choreograph of the actual show and the end performance is so excellent, it's got me interested in making movies of my own.

Hell...I think I'm gonna die.