1.5/4

3/4

3/4

1.5/4

3/4

3/4

2.5/4

2.5/4

3/4

3/4

3/4

2.5/4

1.5/4

3.5/4

1/4

3/4

2.5/4

1.5/4

2/4

2/4

1.5/4

3/4

1.5/4

3/4

3/4

Prev 25 | Next 25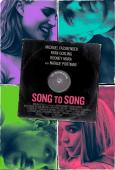 Song to Song

3/4 stars
"The world wants to be deceived"

Song to Song is not really a movie, but more of an experience. The feeling of adventure and freedom like in most Malick movies. Something I felt was missing from "Knights of Cups". While still not having a straight forward narrative that audience members are gonna hate, just like how Malick isn't for everyone.

The film captures life of are characters daily activities, shot a very long time ago.