1/4

0.5/4

1.5/4

1.5/4

3/4

3.5/4

3/4

1/4

1.5/4

3/4

1/4

1/4

2.5/4

1.5/4

2.5/4

3.5/4

3/4

2/4

3/4

2/4

3/4

3.5/4

1/4

3/4

2.5/4

Next 25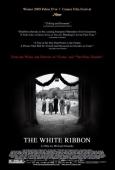 White Ribbon, The ( weiße Band, Das )
The White Ribbon - Review
4/4 stars
I'm dumbfounded.

Seriously, this took a long time to fully appreciate. Not like a day or so, but almost two weeks. I guess I got so wrapped up in it's mystery that I couldn't get a word out. A film that explores depression, cruelty, and life's biggest mysteries. What we see is a mixture of the truth, lies or rumors. It ends on a cold note with nothing ever answered, and these nothing quite like it.

"The White Ribbon" is another masterpiece from the brilliant Michael Haneke. The grim atmosphere and the re-creation of the time period is it's own achievement. Haneke is the best living film making of this decade. He's one of the few filmmakers right now that creates such compelling stories and questions with no answers, but questions that many will be thinking long after it's over.

The performances from the children was both fantastic and natural. The childlike behavior and the little innocence felt real. And for someone who's a sucker for amazing cinematography, this movie has it. Every singe shot is framed so perfectly that you could easily take any shot from the film and make it as the poster.

This is one of those movies that you can find something new with repeat viewings. With such a powerful narrative that excels all my expectations.