1.5/4

3/4

3.5/4

3/4

1/4

1.5/4

3/4

1/4

1/4

2.5/4

1.5/4

2.5/4

3.5/4

3/4

2/4

3/4

2/4

3/4

3.5/4

1/4

3/4

2.5/4

1.5/4

3/4

3/4

Next 25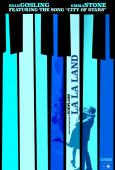 La La Land
La La Land - Movie Review
3.5/4 stars
"I guess I'll see you in the movies".

"La La Land" follows Mia (Emma Stone), an aspiring actress, and Sebastian (Ryan Gosling), a dedicated jazz musician, struggling to make ends meet while pursuing their dreams in a city known for destroying hopes and breaking hearts. With modern day Los Angeles as the backdrop, this musical about everyday life explores what is more important: a once-in-a-lifetime love or the spotlight.

Back in 2014, there was a film called "Whiplash" that blew everyone away, including me. It was my 2nd favorite movie of that year and I had my eye out for the director next project. Wasn't very long until Damien Chazelle next film in was in post-production and was already a serious Oscar contender. I think "La La Land" and "Silence" was my most anticipated movies of 2016/17. And let me tell you, it did not disappoint.

"La La Land" is one of the best musicals I've seen since "Sweeney Todd" and "Singing in the Rain". It's a movie that lifts your spirit up and leaves you smiling though out. Even with today's generation of loud politics, four years of Trump, celebrities dying, and endless amount of pointless controversy. But then comes a musical about two people who are dreamers, that deal with inn conflict and show how dreams can lead to success. By making the impossible possible while living in a place where dreams come to die.

Ryan Gosling and Emma Stone were both dynamite in this movie. The relationship was sweet and relatable that I actually cared for what was going on. Even with the singing and dancing use as a tool that the characters express their happiness, sadness or disappointment was terrific. This is the best I've seen from Stone and Gosling. Both of them sparkle in this musical.

Damien Chazelle, what can I say about this guy. Chazelle as a film making is both amazing and inspirational. He's on a roll recently and if he's next two movies are brilliant, then he is the best living director today. In "La La Land", he follows a similar theme in his previous movie "Whiplash" about fighting for a dream and jazz, but this movie goes for more a light tone than a dark one. For the dramatic elements of the movie, I really like how he lets it go on for awhile as an emotional effect. He also got an eye for spectacle, because LA never looked so beautiful and fairy tale-like. What else is there to say, but Chazelle nailed it.

Without spoiling anything, but the last shot of this movie was so beautiful and yet sad at the same time. Chazelle sure knows how to end his movies and that's with a powerful punch.

My only complaint I have with the movie is that a few scenes could've been trimmed a bit, as it dragged for me. And while the homages to old musicals were fitting, but some was a bit down your throat. I wouldn't say repetitive (because it's not), but more of a "alright, I get it" kind of complaint. That's really it for flaws.

Overall rating: "La La Land" is simply wonderful. It's a firework of joy and excitement that it's really hard not to fall in love with it. I'm already looking forward to "First Man".