1/4

0.5/4

1.5/4

1.5/4

3/4

3.5/4

3/4

1/4

1.5/4

3/4

1/4

1/4

2.5/4

1.5/4

2.5/4

3.5/4

3/4

2/4

3/4

2/4

3/4

3.5/4

1/4

3/4

2.5/4

Next 25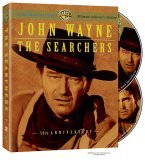 The Searchers
The Searchers - Movie Review
4/4 stars
Wow.

The Searchers is a timeless western classic that completely hooked me from the minute it starts. John Ford shows us how Western is done by it's breathtaking landscapes, haunting scenes and the best ending to a film I've ever seen.

John Wayne gives the performance of his career as Ethan and I don't think his other performances can top that, but then again, my mind might change. John Wayne is the soul of Western and I don't care what anyone says to change that. He's so iconic that even people who haven't seen his movies still know the famous cow boy image of John Wayne.

But I've heard a lot of issues from people with the character of Ethan. People thought the character was racist, unlikable or just a prick. Well his mother was killed by comanches, he lost the woman he loved to his brother, he fought in a war where he would have seen many people, including his friends killed, and then he returns home to his family who are massacred, including the woman he loves who was also raped. He also finds his niece's raped corpse that he buries.

I don't think Ethan was suppose to win your heart. He's a deeply troubled and sometimes bordering on psychotic, person. He's an anti-hero that I couldn't bring myself to hate but root for. He's a racist and I'm okay with that, because it gives the character Ethan an interesting conflict with Martin (played by Jeffrey Hunter), for being quarter Cherokee which Ethan hates. It's never clear if Ethan views change at the end, but it sure makes one hell of a partnership between the two.

This movie dose not mess around when it comes to it's violence. And no, I don't mean it's gory or bloody, but the movie gets quite dark at times. I only say "at times" because there is a fair share of humor in this that I did laugh at, as it fitted perfectly with the story and wasn't force. That's what I love about this movie. It manages to balance humor and dark scenes so brilliantly that's it's really difficult to pull off in movies. For a Western that's aged approved, it sure has some balls of what it presents you.

I gotta be honest here. This is the first John Wayne movie I've ever watched and I can't believe it took me this long to get around to this one. First it was Marilyn, then Dean and now Wayne. Ingmar Bergman, Federico Fellini and Akira Kurosawa movies I still need to see.

Don't worry Letterboxd people,

"That'll be the day".