2/4

3/4

3.5/4

1/4

3/4

2.5/4

1.5/4

3/4

3/4

1.5/4

3/4

3/4

2.5/4

2.5/4

3/4

3/4

3/4

2.5/4

1.5/4

3.5/4

1/4

3/4

2.5/4

1.5/4

2/4

Next 25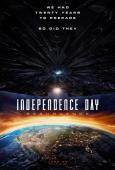 Independence Day: Resurgence
Independence Day 2 - Movie Review
2.5/4 stars
Independence Day: Resurgence is your basic dumb summer action movie that dose it's job well of entertaining you, but the flaws is something that shouldn't be ignored despite people telling you to ignore them.

The effect's (for the most part) was pretty solid and Jeff Goldblum being the best part of this movie is no surprise. You just can't get enough of the Goldblum, as he always got this welcoming presence to him in every movie he's in. I was never bored while watching the movie and this is the kind of the film that would have been great if it was released in the 90's like the first movie, as this would have fitted right in.

Unfortunately, "Resurgence" misses a lot of the charm and charisma that the first film had, as the squeal is just mindless entertainment and if you enjoy those type of films then you most likely going to like this one. The amount of coincidences that happens in this movie is quite unbelievable, with character's coming across each other by accident or how the problems are solved was way too easy. And it's attempt of humor was a bit awkward and force, but that's mostly because the movie doesn't want to be too dark or serious for audience members, so the humor is thrown in there to lighten up the mood.

Overall rating: "Independence Day: Resurgence" is a sloppy but enjoyable movie that's only mindless fun....kinda like the first movie in a way.