3/4

3.5/4

1/4

3/4

2.5/4

1.5/4

3/4

3/4

1.5/4

3/4

3/4

2.5/4

2.5/4

3/4

3/4

3/4

2.5/4

1.5/4

3.5/4

1/4

3/4

2.5/4

1.5/4

2/4

2/4

Next 25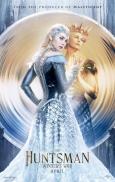 The Huntsman Winter's War
The Huntsman Winter's War - Movie Review
1.5/4 stars
Did anyone really ask for this? The first movie wasn't anything that special and quite unnecessary when thinking about it, and so was this movie but even more unnecessary.

Emily Blunt and Jessica Chastain are both solid actors that always give a good performances, but not in this movie. Chastain Scottish accent is so awful and so distracting that I'm surprise not a lot of people have bought this up. Emily Blunt dose what I call "The Eddie Ascending performance" where she talks really quite at the first and then out of nowhere just explode with rage.

Chris Hemsworth and Charlize Theron are also in this movie...and both are given nothing to do.

Overall: "The Huntsman Winterís War" is a joyless, empty, and a very dull flick that takes away the magic from a fairy tale.

I know this may not be a long detail review, but just like what Mike Stoklasa (RedLetterMedia) once said "Who gives a f**k."