2/4

3/4

3.5/4

1/4

3/4

2.5/4

1.5/4

3/4

3/4

1.5/4

3/4

3/4

2.5/4

2.5/4

3/4

3/4

3/4

2.5/4

1.5/4

3.5/4

1/4

3/4

2.5/4

1.5/4

2/4

Next 25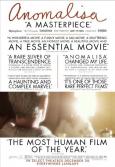 Anomalisa
Anomalisa - Movie Review
4/4 stars
Michael Stone: "I think you're extraordinary".

Lisa: "Why?".

Michael Stone: "I don't know yet. It's just obvious to me that you are".

Anomalisa is about a depressed customer service rep faces the mundanity of his life and one day finds someone he can finally connect with.

What a better way to end the year is to talk about "Anomalisa", one of my most anticipated movie of 2015. Charlie Kaufman is an inspiration, as a writer and now a director. Synecdoche, New York is one of my all time favorite movies, and yeah it's for everyone, but I personally loved it as with every repeat viewings of the movie made my love each more. Now we've got Anomalisa, Kaufman's new film and I did have the pleasure of watching the movie last night, I thought it was freaking fantastic. He did it again everyone.

What really surprised me is how Anomalisa is the least complicated film by Charlie Kaufman, I mean Synecdoche, New York was very complicated and really needed Analyzing with repeat viewings just to get a gasp on what's happening, but here it's not that complicated. But the movie has a lot of clever and excellent choices that makes this movie just as unique as it is, I mean since we live in a age that every movie is the same, this movie stands out from the rest and it's execution was better than most of the animated movies I've seen this year.

Duke Johnson and Charlie Kaufman are the main directors of this movie, and both of them have created one marvel of a film. Both of them mixed humor and seriousness together perfectly well. Duke Johnson is best known for working on TV shows such as: Moral Orel, Mary Shelley's Frankenhole, and Community. So yeah, "Anomalisa" is Duke Johnson's first feature length film and I thought he did a brilliant job on this movie, as he worked well with Charlie.

Another thing I have to praise is the animation as it is freaking flawless. The movie is in stop motion and it's seriously impressive. When are main character goes through doors into different rooms and hall ways it was handled marvelously, because it makes this universe that the movie is set in feel real. The voice acting and the character designs made these characters feel like real people. Oh and how can I not talk about the characters eyes in this movie, as it was more realistic and impressive than any other animated movie I've seen this year. "The most human movie of the year. And it doesn't star a single human". - From Matt patches

Overall Anomalisa is one of the best animated movies of 2015. It's way better than "Inside Out" (In my opinion). Charlie Kaufman has done it again everyone and it's glorious.