1/4

0.5/4

1.5/4

1.5/4

3/4

3.5/4

3/4

1/4

1.5/4

3/4

1/4

1/4

2.5/4

1.5/4

2.5/4

3.5/4

3/4

2/4

3/4

2/4

3/4

3.5/4

1/4

3/4

2.5/4

Next 25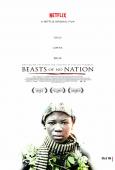 Beasts of No Nation
Beasts of No Nation - Movie Review
3/4 stars
Agu: "I saw terrible things... and I did terrible things. So if I'm talking to you, it will make me sad and it will make you too sad. In this life... I just want to be happy in this life. If I'm telling this to you... you will think that... I am some sort of beast... or devil. I am all of these things... but I also having mother... father... brother and sister once. They loved me".

The story is about a young child in an unnamed African country learns to become a soldier under the tutelage of a Commandant.

Beasts of No Nation is shocking, powerful, heartbreaking and scary to watch sometimes. Cary Fukunaga brilliantly directed this movie and he's also the same director of the first season of True Detective (Just in case you didn't know). Idris Elba delivers a menacing performance that's one of his best. Abraham Attah stole the show for me, I mean he was so freaking brilliant in this movie and he deserves an Oscar nomination (In my opinion). The movie is shocking and very real with some of the scenes which I liked, because it never hold anything back and not once tried the Hollywood way of getting out of danger. Movies like this are great examples of film making.


Now for the flaws: I liked this movie, but I honestly can't see myself watching it again. It's one of those movies that you think it's good and well made but never again will you see yourself re-watching it. But that's just me and who knows, you may have watched more than once.

Overall Beasts of No Nation is a chilling and depressing war drama that really gets to you. The performances, the visuals and the shocking scenes in this movie are unforgettable.