2/4

3/4

3.5/4

1/4

3/4

2.5/4

1.5/4

3/4

3/4

1.5/4

3/4

3/4

2.5/4

2.5/4

3/4

3/4

3/4

2.5/4

1.5/4

3.5/4

1/4

3/4

2.5/4

1.5/4

2/4

Next 25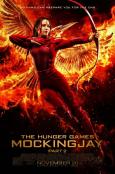 The Hunger Games: Mockingjay Part 2
"Turn your weapons to Snow!"
2.5/4 stars
Katniss Everdeen: "Tonight, turn your weapons to the Capitol!".

The story in Mockingjay Part 2 is Katniss fully embracing her role as the face of the district revolution in the "Mockingjay" she leads an all-out assault on the capital to bring down President Snow and his autocratic rule once and for all.

After the dull filler that was Mockingjay Part 1, I mean splitting movies into two parts isn't a great idea with some book adaption movies that don't need it, because the books themselves were not long and flowed together nicely. And yes Harry Potter did the splitting movies into two because well, the book itself was freaking huge, so huge that a little toddler can reach the top shelf by standing on the freaking book. It's completely pointless and now every book adaptation movie is doing it just to cash in more money.

I didn't like Mockingjay Part 1 that much. Nothing interesting was developed in that movie and part 1 was nothing but a set up to the next movie, which you should never do, because when you do a marathon of all of the movies, part 1 is the one that you want to skip. That's what Part 1 was 'a set up' and it doesn't stand on it's own as film (In my opinion). But all that a side, I sawed Mockingjay Part 2 a few days ago and it wasn't that great. It was way better than Part 1 when comes to something happening, but that's not saying much, because while I was watching the movie I had the same uneasy feel that Part 1 gave me and not in a good way. It isn't a bad movie, but it wasn't great.

The one major positive that I can give that was all throughout The Hunger Games franchise was Jennifer Lawrence. She has so much to do here and really makes her character shine in this movie. She once again dose a great performance that wasn't over acting or being too dramatic, but it was simple and locked down. She was without a doubt the best part of this movie.

This is a very dark and grim movie with no comic relief from the other characters, and these no messing around here and that element in the movie dose work...sometimes. These many scenes in this movie that was overly sad and so dramatic, to the point that I said to myself "Oh my lord, this movie is so miserable and grim". I know a finale like this isn't going to end quietly and it worked sometimes, but sometimes it overly did it.

This is Philip Seymour Hoffman's last movie and I think the movie did justice for his character in a respectful way due to the actors passing. I know it was hard for the cast to deal with Hoffman's death, since he's character had a major scene in this movie that he never got a chance to film due to his death. I thought the movie did great job of working around it respectfully. R.I.P Philip Seymour Hoffman.

Now for the problems: The first half of this movie and the last is so freaking slow with it's pacing, to the point that it was basically killing the spirit of this movie with the lack of energy. The movie never made me feel like the stakes were high as it felt too easy. There was never a moment that made me feel like I was on the edge of my seat or biting my nails worried for what's going, because as I said before the stakes never felt high to me. That's really disappointing and I had so much high hopes for this movie to be an intense finale with a satisfying ending...well I got some of that, but not the satisfying or intense part.

Was the ending satisfying? well, it was fine ending, but not the best as the movie didn't know how to end. The endings were dragged out.

Overall Mockingjay Part 2 will satisfy some fans of the franchise. I do think it's better Part 1 as I felt like a lot of things were happening. Unfortunately this movie dose have the same problems that Part 1 had with it's pacing and it's lack of energy. I didn't think this movie was great and I know for a fact that five years from now I will completely forget about this movie.