2/4

3/4

3.5/4

1/4

3/4

2.5/4

1.5/4

3/4

3/4

1.5/4

3/4

3/4

2.5/4

2.5/4

3/4

3/4

3/4

2.5/4

1.5/4

3.5/4

1/4

3/4

2.5/4

1.5/4

2/4

Next 25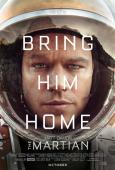 The Martian
The Martian is absolutely worth checking out
3/4 stars
Mark Watney: "F**k you Mars".

The story is about astronaut Mark Watney is separated from his party following a fierce storm and left behind after being presumed dead. But he has survived and with few supplies, he will have to rely on his own ingenuity to survive and figure out a way to Earth that he is still alive.

You can slap Ridley Scott's name on anything and everyone (including me) will go see it. It's so awesome that you still can go to the cinema today and see a new film directed by the guy who brought us Alien, now that's freaking awesome. But Ridley can be a hit or miss with the movies that he's releasing recently such as: Robin Hood, The Counselor and Exodus: Gods and Kings, but Prometheus (In my opinion) was pretty good and I know a lot of people may not like that movie and that's okay if you didn't like it, but I did. When I first heard about The Martian being directed by Ridley Scott, I was exciting but nervous at the same time, because as I said before about Ridley being a mix bag recently. But I kept a positive and open mind, I mean this might be the film that Ridley Scott finally went back to he's roots from the good old days.

After seeing The Martian on my first viewing I liked it, but I wasn't amazed by it. It's not until the movie actually started to grow on me as I thought about it more and more, and now after thinking about it for awhile now, I can safely say that The Martian is a great movie. Ridley Scott's back everyone.

Matt Damon plays Mark Watney brilliantly in this movie and this might actually be the best performance I've seen from Damon. He's hilarious, always positive and never gives up even when a lot of things don't go quite as planned, he always finds away. I also love how Damon's character can crack a joke there and then even when he's in this horrible situation; and to me it made he's character more relatable and likable. This is Matt Damon finest work as he was terrific in this movie.

Ridley Scott's directing in this movie was absolutely magnificent and this has to be one of he's best films in years. The movie isn't all hilarious as there were some real suspenseful scenes in this movie, but what I thought was so brilliantly well done is that Ridley Scott mixed the humor and the suspense perfectly together. Nicely done Ridley.

The rest of cast: Jessica Chastain, Kate Mara, Sean Bean, Jeff Daniels and Chiwetel Ekiofor were all freaking great in this movie. Everyone in this movie was great.

The writing has to be the biggest strength in this whole movie, because it was clever, funny, never lost me attention and it had a fantastic sense of humor to itself. It matched the tone of the movie perfectly as I felt that The Martian needed this type of tone.

Now for the problems: My only flaw in this movie is this 25 minute sequence where it cuts back to earth with the NASA crew talking about different ways of bringing Mark back, but the stuff on Mars was more interesting. I'm not saying it was bad as the earth stuff scene was handled well and it was very well acted, but I was more interested on the stuff that was happening on Mars with Damon's character.

Overall The Martian is absolutely worth checking out. This is Ridley Scott's and Matt Damon's best work in years. It's beautifully shot, well acted and a entertaining movie.