3/4

3.5/4

1/4

3/4

2.5/4

1.5/4

3/4

3/4

1.5/4

3/4

3/4

2.5/4

2.5/4

3/4

3/4

3/4

2.5/4

1.5/4

3.5/4

1/4

3/4

2.5/4

1.5/4

2/4

2/4

Next 25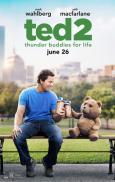 Ted 2
Squeal bait
2/4 stars
Thunder buddies for life.

The story is about Ted and Tami-Lynn are married and the next step is having a baby but Ted can't be legally regarded as a parent unless he can prove his is "human" in a court of law.

Now looking back on the first Ted movie I got say I changed my mind on it a bit and what I mean is that it wasn't as great as I remembered it to be, but I still think it's decent enough to give it a pass as a comedy and a film. But then I heard news about a squeal in the works and then I heard that Amanda Seyfried, Morgan Freeman and Liam Neeson was in the film and that alone give me a little interest in the movie just by that movie news. I wasn't jumping for excitement for this movie as I the movie didn't look anything special, just squeal bait.

Now after seeing Ted 2 I'm not very impressed of what I watched, actually this movie is pretty bloated for it's own good.

What I liked in the first Ted movie is the chemistry between Mark Wahlberg and the character Ted. They back and forward humor really worked if you would believe it, I mean a pot smoking talking teddy bear hanging around with Elliot Moore from The Happening would actually work is just beyond this world. And here they chemistry is still good just like in the first movie.

The movie did make me laugh a couple of times as that's mainly Wahlberg and Seth chemistry in the movie and some other stuff that's only a small little nod to a film or TV and it was funny at first until late on where they stretched out the joke to the point were it got really old and really stale very fast. But I do think this movie is way better then Seth MacFarlane last movie A Million Way to Die in the West as that movie didn't even try and was pretty forgettable, I mean it's been a year since that movie came out and I forgotten pretty much all of it.

What really surprise me is how messy the movie is and the movie doesn't know what it wants to be, because these three different things going on in this movie like Ted is trying to prove that he's a human because him and he's wife want a baby but Ted needs to prove he's human so he can be legally parent (Yeah I know it doesn't make any sense, just go for it for now) oh and these a road trip in the movie and remember that stalker in the first Ted movie that kidnapped Ted well he's back in this movie. That's the whole movie of Ted 2 for you. Oh one last thing, Ted 2 is kind of the same as the first, I wish I can go into details of that but that would be spoiling it for some people who may have interest of seeing this movie and I'm being nice here and won't be spoiling anything.

Before seeing this movie I thought that Amanda Seyfried wasn't going to do anything great, I thought that she was just filling it in for the money, but I got to say that she was pretty good in the movie. She actually did something with the story and didn't feel like a background character. She was Wahlberg worked really well with each other and Ted as well. Same thing with Morgan Freeman.

Overall Ted 2 isn't all that great to me. As I said before about a billion of times by now you may disagree and like the movie and completely overall on what I said, again that's fine that's cool, enjoy what you enjoy, but I'm sticking what I put down and it won't change anytime soon.