2.5/4

3.5/4

3/4

2/4

3/4

2/4

3/4

3.5/4

1/4

3/4

2.5/4

1.5/4

3/4

3/4

1.5/4

3/4

3/4

2.5/4

2.5/4

3/4

3/4

3/4

2.5/4

1.5/4

3.5/4

Next 25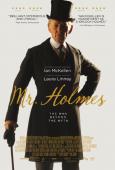 Mr. Holmes
Not the bees!
2.5/4 stars
I think I put all the best Sherlock's in order, here we go:

Nicholas Rowe is the young Sherlock.

Jeremy Brett is and always will be the best Sherlock.

Christopher Lee was the sharp Sherlock.

Robert Downey Jr. was the action Hollywood version of Sherlock.

Johnny Lee Miller was the american Sherlock.

Benedict Cumberbatch is the modern day Sherlock.

And finally Ian McKellen is the old Sherlock.

Mr. Homes show's it's version of Sherlock Holmes is in his twilight years - but looking back on his long, storied career, there is still one case that eludes him and he will not rest until he can unravel its mystery.

I was interested in the idea of a old Sherlock Holmes, I mean it's different from most Sherlock stories and I thought they doing that story were the old hero re-lives his past life by they work as they age effect's them to do it again, like those kind of stories, it worked before in the past with Batman and many more superheros or maybe villains if you want to reach that far. I thought it would work even when the movie's advertisements didn't really lock me in with the rest of the movie as the film just by looking at the posters or just the trailer, it did look a bit dull and one of those British TV drama's that most people would have skipped. After seeing the movie about a couple of days ago I can say that the movie wasn't all that good, this isn't the worst movie I've seen but it could have been a lot interesting when it came to characters and story.

Ian McKellen as the old Sherlock was truly spot on for him. Ian McKellen not just nailed the role as Holmes but he played it like he's been playing it he's whole life. When have you seen a movie where Ian McKellen pulled off a bad performance, hmm let's see, never. He was both caring, sweet, funny and also cool as the old Sherlock. Now I may sound mean here but I must bring this up as Ian McKellen looks like a rotted corpse in this movie, well this Sherlock is 93 years old, yep you heard that right he's 93 years old and I think that's why but while watching the movie I thought to myself "Good god, Ian age really dose show in this movie". But beside's that Ian McKellen really did a great job in this movie playing the old Sherlock.

The movie dose look stunning as everything is all bright and well a live. The cinematography was great, the other actors in the movie even the little boy that Sherlock hangs around with he did good and so did everyone else.

But that's where the good stops there for me as this movie is kind of a mess with it's pasting and the lack of interest I had in this movie.

Now for the problems and there's a lot: Nothing really exciting happens in this movie and I really do mean that. The whole movie is old Sherlock and the little boy and the boy ask Sherlock questions about he's past work and about other things and Sherlock explains to him, and it's all not very interesting. The movie dose cut to flashbacks of Sherlock in Japan for something to do with bees or something, I don't know I lost interest at that point. And the other flashback is kind of interesting as we get to see Sherlock solving a small mystery that I can't bring up or can't go into full detail because if you have full interest on seeing the movie and don't want things to be spoiled then your save here, but what I can bring up that doesn't end up spoiling it is that it involves a man who's worried about he's wife and she's acting a bit strange, so Sherlock takes interest in this case and tries to solve this mystery, oh and how the flashback ends is pretty funny and that's Sherlock stopping the story and saying to himself "I can't remember the rest of it". But here's the thing that's not the main focus of the movie, the real main focus is Sherlock staying at this mother and son house for some reason, well I did lose interest as I said before. The movie dose jump back and forward with only these two flashbacks and that's it, the rest of this movie is with the boy and Sherlock.

The director of the movie Bill Condon who did such films as: Dream Girls, Gods and Monster's and the god awful failure known as Twilight: Breaking Sh*t Part 1&2. Yep the director of Twilight did this movie and no wonder it's a mess, the pasting is all over the damn place. The movie sometimes doesn't know what it what's to be, literally. Now Condon doesn't do a terrible job directing in this movie as these little touches of greatness in some scenes of the movie and could have been better then what we got, but in my opinion they really picked the wrong director for this movie as I really can't put together Bill Condon vision for this movie. Sorry Bill you can do better next time.

There was one flaw I found in this movie that I bet nobody else is going to bring up as it doesn't bother them but it's a flaw that even I can't believe they overlooked and that's when Sherlock goes to see a film (Now this scene takes place around the 30's maybe, but anywhere) it's a film about him and he's watching it and of course it's in black in white, but I noticed the screen was HD quality and the sound was pitch perfected, now I have seen many movies from the 1930's and 1940's and the audio wasn't the best and you can't fault them for that as they were testing out the audio around that time as it was new to them, but in this I wished they would have at least tried to film that film that Sherlock was watching on a old black and white camera, it will show that they at least tried but not here as it comes off lazy. Now this wouldn't bother you as most people will let that pass, but for me it's a noticeable flaw and could have easily been fixed.

Overall Mr. Holmes wasn't all that great to me. But who knows you may enjoy it and you can overlook those flaws and find something enjoyable in this forgettable film. As for me I'm sticking on what I said about this movie and how it could have been so much better then it was.