2/4

3/4

3.5/4

1/4

3/4

2.5/4

1.5/4

3/4

3/4

1.5/4

3/4

3/4

2.5/4

2.5/4

3/4

3/4

3/4

2.5/4

1.5/4

3.5/4

1/4

3/4

2.5/4

1.5/4

2/4

Next 25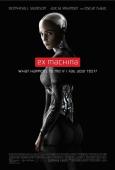 Ex Machina
Well driven movie
3/4 stars
You see Chappie you could have been like Ex Machina with it's clever storytelling and interesting character's but no you have to run off with the gangs and become a A-hole didn't you Chappie, such a disappointment. I'm sorry I got to get that out there.

The story is about a programmer at an internet-search giant, wins a competition to spend a week at the private mountain estate of the company's brilliant and reclusive CEO, Nathan Bateman (Oscar Isaac). Upon his arrival, Caleb learns that Nathan has chosen him to be the human component in a Turing Test-charging him with evaluating the capabilities, and ultimately the consciousness, of Nathan's latest experiment in artificial intelligence.

Every review for Ex Machina has been amazing, I haven't came across a review that gived it a negative score and everyone is calling the movie "An original storytelling movie with a deep message about A.I". I got pumped up for the movie because the movie looked great, it had a solid looking cast and the score for the movie was pure brilliant because I actually listened to the soundtrack to this movie before I even seen the movie. After seeing the movie I can say that Ex Machina is a smart original story that's totally different from other Sci-Fi monster films.

Alex Garland the director of this movie, and this is pretty much my first movie that I've seen directed by him and I can say that Garland really brought a lot to this movie and that's the true real life look on A.I, I mean he did wrote the movie as well so he had full control of the movie and he can do whatever he wanted for the story and he's vision he had for the movie, because I seen Alex Garland in interviews online and he talked about how much he gived it he's all and got whatever vision he had out there, and it worked. Alex Garland directed the movie outstandingly well done as he got the tone and the realism to it that made the movie great for me.

Alicia Vinkander who plays Ava (The robot) and Alicia did more then a great performance, she did outstanding in this movie. I believed every scene that she's in was a full life robot because she didn't do the cliche robot voice or the lifeless face and the boring body movement, no she add a lot to her character and that's Ava trying to be human and acting and also doing actives like people will do. But she's also sneaky and can easily convince you that she's a gentle soft heart that although out the movie she will fill you with lies or the truth depends what mood she's in, and Alicia Vinkander delivered a brilliant performance to this role and she knocked it out of the park.

Oscar Isaac is also in this movie and he's also brilliant in this as well. Oscar Isaac has been impressing me recently with his acting in his past performance and in this movie he once again brings it to he's all, because he did great playing this cool lay back genius who created life and he takes it like a joke and I think that's why I liked his character a lot more then I expected. Oscar Isaac you did awesome in the movie, well done you fantastic actor.

The movie's tone was also spot on as it kind of gives you a uncomfortable feeling inside of you as the unsolved secrets slowly start's to be unsolved. The writing was great and the cinematography was beautiful to look at.

Now for problem: The one person I haven't brought up during this review is Domhnall Gleeson and he's not terrible in the movie, actually he was good in the movie but his character was a bit dull and flat to watch. I didn't really care about he's character that much because the movie to me didn't really development him that much to care about.

The movie is very slow at times and I wouldn't say the movie is for everyone as I have talked to some people who have seen the movie and they pretty came out and say that they didn't like the movie. But hey you can't win everyone over even when a movie is ten times better then other most films out there but some people overlook that.

Overall Ex Machina is a great storytelling A.I movie with a strong hidden message about people pushing technology to far over the edge that it will soon kill us and becoming us.