1/4

2.5/4

1.5/4

2.5/4

3.5/4

3/4

2/4

3/4

2/4

3/4

3.5/4

1/4

3/4

2.5/4

1.5/4

3/4

3/4

1.5/4

3/4

3/4

2.5/4

2.5/4

3/4

3/4

3/4

Next 25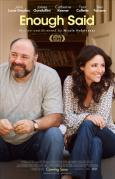 Enough Said
For James Gandolfini
3/4 stars
"You all knew James Gandolfini the actor. I was lucky enough to know Jim the man for 10 years as his close colleague and his pretend life partner, and for many more years as his friend. And itís Jim the man, the very dear man, that I will miss most of all." - Edie Falco at the Emmy's for James tribute.

The story is about a divorced woman thinks she has finally found a new man she can share her life with... the only problem is he turns out to be the ex-husband of her new friend.

Enough Said is a lot different then I expected it to be before seeing the film. I was expecting the same romance cliche movie with the long fallout and the women or man start to feel bad and towards the end they both realize that they idiots so they get back together, riding off into the sunset. Enough Said has some of those cliches but took a much different turn and for the best, because Enough Said is both a great comedy, good romance movie and realistic movie viewing relationships and people's chemistry today.

Now I already did a tribute to the late great James Gandolfini in my The Drop review but in that movie he pretty much played a nasty mob type of guy that's a little bit like Tony Soprano without the angry problem, but in this his a big heart guy that's so sweet and lovable it makes me sad that James is really gone because James Gandolfini pretty much plays himself, a big lovable human being. James Gandolfini did a magnificent performance in this movie and a performance worth remembering for.

Julia Louis-Dreyfus was also great in the movie as she plays the funny, always smiling wife that screw's up a couple of times in the movie, basically real life. It's not like she's the bad guy here (or women if you must) as every time she tries to do something right when it comes to problems she somehow makes it ten times worse and every time this happens I can see the look of destroyed failure in her eyes and that's due to the brilliant acting from Julia Louis-Dreyfus, she really fitted the character so well that she gives her character ark that worked brilliantly.

The chemistry between James and Julia was both cute, charming, interesting and straight up adorable. I think the writing and the directing is the real reason why the chemistry worked because every time these two talked they will always have something to make me and probably everyone else to smile at are adorable together.

Now for the problems: I don't have problems with the movie to be honest, but I'm not going to give it a best rating I got because I don't really think this movie is on the level of amazing or groundbreaking, but it's still a sweet little movie.

Overall Enough Said is a great movie with great performance from everyone and brilliant directing and writing.