1.5/4

3/4

3.5/4

3/4

1/4

1.5/4

3/4

1/4

1/4

2.5/4

1.5/4

2.5/4

3.5/4

3/4

2/4

3/4

2/4

3/4

3.5/4

1/4

3/4

2.5/4

1.5/4

3/4

3/4

Next 25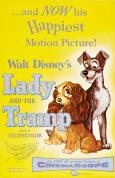 Lady and the Tramp

3/4 stars
Nothing can beat puppy love, it's too cute to beat.

Lady and the Tramp is about a refined, upper class spaniel and a rapscallion mutt fall in love in this classic piece of Disney animation.

Lady and the Tramp is Disney's finest work of animation. The chemistry between the two dogs are too adorable to watch which always brings a smile to my face all the time. And the dinner scene with the iconic spaghetti kiss that was so romantic it's better then most romance movies starring human people.