2/4

1.5/4

3/4

1.5/4

3/4

3/4

1.5/4

3/4

4/4

2/4

1/4

3/4

1.5/4

3/4

3/4

2.5/4

0.5/4

2.5/4

3/4

1.5/4

3.5/4

3/4

3/4

3/4

4/4

Prev 25 | Next 25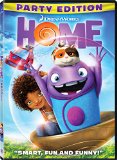 Home (2015)
Easily forgettable
2/4 stars
Generic HollyWood fluff basically what this movie is.

The story to Home is about a group of friendly aliens uses Earth for their new hideout. But when one is inadvertently discovered by a human, he has no choice but to join forces with the teen and the two embark on a globe-spanning adventure to right his wrongs - and maybe find out the two races have a lot more in common then they thought.

I remember back in February 2014 when I went to see Peabody and Sherman at the theater and when all the trailers to loads of different movies where over, then a short animated movie came on called Almost Home and it was only a couple of minutes long and it was a fine little short film...way better than the movie itself, I mean I'm being nasty but hey that's me being honest for you right here and it's not like I wanted this movie to be a generic kids movie.

Jim Parsons does the voice work in this movie for are main character. Now I like Jim Parsons as an actor and him being in the Golden Globe wining TV show The Big Bang Theory, but in this he just plays Jim Parsons with a little salt of Sheldon Cooper. He didn't do horrible or anything like that he just didn't hind his voice while playing the character because although out the movie I had an image of Sheldon Cooper in my head every time the character speaks.

Rihanna as we know isn't the greatest actress on the planet, actually she's horrible but now in this she voices a character that even when shes not in front of the camera she still can't pull of a good voice performance, because I didn't buy for one second that she played a young girl in this movie.

The jokes in the movie felt really flat to me and I know this movie is for kids but I'm not sure if the kids will enjoy it, maybe they will or maybe they not at least the movie pretty animation to keep them focus and not get bored.

Without spoiling anything in the movie I just got to say that the movie ended in such a cliche way that always happen in kids movies towards the end and that's character's dancing over their success and their victory. Every time that happens in kids movies I simply roll my eyes.

For the only good things in the movie are the animation as it looks pretty and colorful to look at and the voice acting for the most part isn't as bad as I said early. Overall Home is an generic, cliche, playing it safe and easily forgettable.