1.5/4

3/4

3.5/4

3/4

1/4

1.5/4

3/4

1/4

1/4

2.5/4

1.5/4

2.5/4

3.5/4

3/4

2/4

3/4

2/4

3/4

3.5/4

1/4

3/4

2.5/4

1.5/4

3/4

3/4

Next 25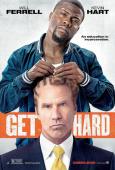 Just like in my Unfinished Business review as I explained why I watched it and all that stuff...well for this one I checked it out myself just because I had a little interest for this movie and wow talking about a miss fire this movie was. This is going to be a short review for this garage movie, why well I haven't got anything else to say about it because why should I go into such much detail for this movie that I will not remember it in a few days time.

The story is about a millionaire faces a prison sentence following a fraud conviction and in order to survive life behind bars, turns to Darnell Lewis to toughen up.

Listen March has been a slow month for me because there are some of the new releases that I haven't checked out yet and yes I pretty much review movies everyday and I do have my breaks time again, but screw it life is short so start reviewing. The title "Get Hard" sounds like a porn video you will come across on PornHub.com, why can't they just called the movie Get tough or something like that, because people are going to take the title not very well and it would be really awkward to shout it out it in public. Anywhere with the other disappointments so far in March that I had interest that turned out to be a big massive f**k you to the auditions and me, and Get Hard can join those titles because this movie sucks.

The jokes in the movie came off sexist and kind of racist and you should know by now that I can't stand those jokes because I can picture in my head that all these people out there are getting hurt by this and stupid humor is unacceptable.

Kevin Hart and Will Ferrell are fine in the movie but I rather like to see them in better movies than this. But overall as I said early on this movie isn't going to be talked about probably never again by some people, but for me your going to this again...in my worst of the year list right next to Unfinished Business.