1.5/4

3/4

3.5/4

3/4

1/4

1.5/4

3/4

1/4

1/4

2.5/4

1.5/4

2.5/4

3.5/4

3/4

2/4

3/4

2/4

3/4

3.5/4

1/4

3/4

2.5/4

1.5/4

3/4

3/4

Next 25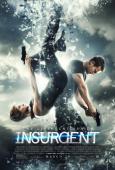 Insurgent
Trying to hard to be the next Inception
2/4 stars
F**king teens.

The story to Insurgent is about the stakes for Tris as she searches for allies and answers in the ruins of a futuristic Chicago. Tris (Woodley) and Four (James) are now fugitives on the run, hunted by Jeanine (Winslet), the leader of the power-hungry Erudite elite. Racing against time, they must find out what Tris's family sacrificed their lives to protect, and why the Erudite leaders will do anything to stop them. Haunted by her past choices but desperate to protect the ones she loves, Tris, with Four at her side, faces one impossible challenge after another as they unlock the truth about the past and ultimately the future of their world.

To those who haven't seen my first review of Divergent basically I thought the movie was alright and I was kind of surprise that I didn't hate it as I thought I will just because of these stupid books adaptations that we get today trying to catch some money or try to be the next Harry Potter which normally backfires. I wasn't like full on excited for Insurgent just because the trailer looked pretty bad and really laughable with it's goofy CGI. But that didn't stop people getting really excited for it and that's most of the teens or just the people who have read the book are here to support or b'tch about the film, whatever comes to they minds. But I came across an old friend that I use to hang around with that has seen the movie and told me that, "It's the best movie ever. I think it's a five out of five star's rating for me", oh that same person is the same person who give Fifty Shades of Grey a positive rating and give the great Whiplash a negative response. After seeing the movie myself I have to say that I'm not really impress at all with the film, actually to be honest I think this movie is a bloated mess.

Let me just get the positive stuff out the way first: Shailene Woodley in the movie did a decent performance and performed some of the action scenes very well but most of it is performed by a trained stunt woman.

Octavia Spencer was really good in this movie. She's in a couple of scenes in the movie and it's a same as a brilliant actress she is only getting small parts in recent movies. But anywhere was great for what scenes she had. The rest of cast like Miles Teller, Theo James and Ansel Elgort all three did great in the movie as well.

Now for the down falls: Kate Winslet all through at the movie dose nothing really treating just standing behind a computer screen ordering attacks on people. A complete was of talent from another great actress.

The visual effect's at times look fine and okay for the most part, but for most of the movie the effect's look a bit unfinished like it's only one more thing to do before the visual effect's are done. It looks laughable and over the top during it's action scenes. So overall visual effect's not so good.

I'm not going to spoil the ending to the movie but let me just say it ended in a way that it's trying to be like Inception, actually the whole film is trying to be Inception when you think about it. The book came out around the time Inception was out maybe the author cope cat the groundbreaking elements from Inception. If fans of the book see this review let me just say this is the second book feels like Inception, correct me or not.

Overall Insurgent sometimes doesn't know what it wants to be at times with it's mess plot. To those who like the movie that's fine but to me I will forget this movie about a couple of weeks time.