1/4

0.5/4

1.5/4

1.5/4

3/4

3.5/4

3/4

1/4

1.5/4

3/4

1/4

1/4

2.5/4

1.5/4

2.5/4

3.5/4

3/4

2/4

3/4

2/4

3/4

3.5/4

1/4

3/4

2.5/4

Next 25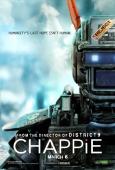 Chappie
Chappie the ass-hole robot
2/4 stars
Chappie: "I've got blings?... I've got blings!". That's the kind of dialogue you get from this movie and I was actually forward to this until I sawed.

The story is about a near future, crime is patrolled by an oppressive mechanized police force. But now, the people are fighting back. When one police droid, Chappie, is stolen and given new programming, he becomes the first robot with the ability to think and feel for himself. As powerful, destructive forces start to see Chappie as a danger to mankind and order, they will stop at nothing to maintain the status quo and ensure that Chappie is the last of his kind.

I remembered watching the first trailer for Chappie and being so moved and so interested in the idea of a Short Circuit mash with a little violent future with the street gangs and people just being A-holes to each other. I got pumped for the movie and Neill Blomkamp hasn't disappointed me yet and some people may dislike Elysium but to me I enjoyed that film and I really enjoyed District 9, I mean it was such a original, new and today's Sci-Fi classic. So why on earth wouldn't I not be looking forward to this movie. After seeing the movie, you know what else hurts more than pain? Disappointment.

Let's first start of with the positive things in this movie: Sharlto Copley did a fantastic job playing Chappie and he also did great doing the Motion capture. Copley really brought life to his character and it was a good choice to do. Dev Patel was also good as well, his character was the only likable human being in the whole movie, so was Chappie before he turns into a little ass-hole later on.

The visual effect's was good as well. What Neill Blomkamp dose well in his movies is blend in effect's and story together smoothly and well done. The action scenes were shot very well and the sound mixing & editing were really good.

Now for the bad and there's a lot: The two band members in this movie Ninja and Yo-Landi Visser who are known as Die Antwoord for they band name, well the acting from those two was not very good...it was god awful bad. These two really can't act and I heard that they never had acting lesson's before and this is basically they first time in a movie acting and it shows really well. They character's in the movie have to be the most annoying, unlikable and scum of the earth A-holes that I wanted to die because they were bad people doing bad things.

Later on in the movie Chappie himself turns into a big dick to everyone. He throws grenades at people and steals people cars. Are main hero everyone, when his not treating or hurting people he goes around talking gangster in that annoying voice of his and at's rude to everyone around. Chappie the ass-hole robot.

Hugh Jackman as the villain is the stick in the mood bland villain that his plains don't work or don't really make any sense at all. Sigourney Weaver only has a couple of scenes in this movie and her character doesn't really do anything special or anything worth talking about.

I love Han Zimmer music in every movie his a part of and in this movie his music once again was great to listen to, but that quickly stopped as the music changed into Die Antwoord music and I know some people out there are fans of they music but I'm not. This has to be the worst and the most annoying peace of music I ever heard, it was trash music and I hated it.

Listen, you had no idea how much I wanted this to be good, actually I wanted this to be amazing, but I was extremely disappointed and kind of upset that this turned out bad. The movie could have Neill Blomkamp second best film and it could broken new grounds with it's story and message that's true to life, but no, you know what we got? Annoying human characters that I couldn't give a damn if they die or not, and the movie itself was a big giant mess, I'm pretty shocked how messy this film is.

I'm sorry everyone but this movie was awful.